Discover more from Drinking from the Firehose
A weekly(-ish) newsletter on commerce, media, science, tech, investing, & internet culture by Alex Taussig. I am a partner at Lightspeed in Silicon Valley.
Over 9,000 subscribers
Firehose #180: 🍰 Cross section. 🍰
Unpacking a busy week at Lightspeed. Plus: markets as Veblen goods, crave the wave, depreciating developers, and a history of ghosts.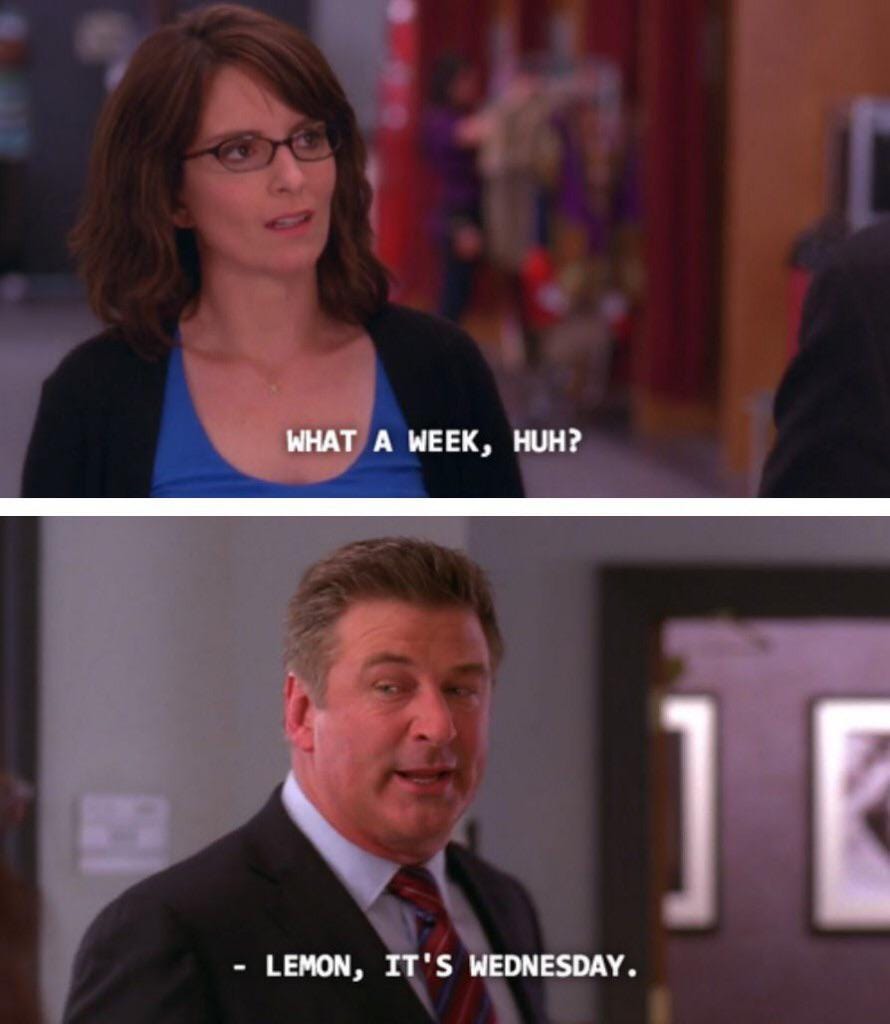 One Big Thought
We had a lot of portfolio news this week, with no fewer than 7 financing announcements across the Lightspeed portfolio. They form an interesting cross section of our investment activity. Now, I normally try to avoid making this newsletter a commercial for my firm; but, given this unusual amount of deal volume, I wanted to pause and reflect on how these investments reflect the trendlines in technology at this moment.
Faire* announced a $170M Series E round at a $2.5B valuation led by our friends at Sequoia Capital with significant support from us and other insiders. While COVID-19 hit small retailers particularly hard back in Q2, the entire industry rebounded in Q3 when cities began to open up and adopt to the pandemic. Faire accelerated growth to over 3x YoY with the vast majority of customers coming through organic or referral channels. The palpable market pull is evidence that the wholesale supply chain has seen a dramatic leap forward in digitization — similar to what we've seen broadly in consumer-facing online commerce. I expect we'll see other wholesale industries transformed as well in the coming years.
Theta Lake* announced a $13M Series A round led by us. Every time a technology shift occurs, a new attack surface emerges in the enterprise. Today that shift is real-time audio, video, and chat. Even before the pandemic, organizations were shifting many of their critical operations to remote work. Post COVID-19, nearly every organization is rolling out some sort of remote strategy. With that, they need solutions for security, risk, and compliance. Theta Lake designed software that uses AI and prebuilt workflows to constantly monitor these streams and flag suspicious events. It's yet another example of how AI can be used to solve specific applications in the enterprise.
Salto* announced a $27M Series A round led by us and our friends at Bessemer and Salesforce Ventures. The company applies modern best practices in software development to the field of business operations (aka "BizOps"). It is currently focused on how Bizops workers interact with various SaaS tools in the enterprise. CEO Rami Tamir explains it like this:
"Defining a company's business logic as code can make a fundamental change in the way business applications are delivered. We like to think about it as 'company-as-code,' much in the same way as 'infrastructure-as-code' transformed the way we manage data centers."
Salto feeds two existing trends we are tracking. The first is the proliferation of SaaS products in the enterprise. A typical Salto customer may have several hundred of them deployed at various degrees of scale, all with decentralized decision making and constantly changing configurations. The second is the movement towards digitization of workflows in various horizontal job categories. We've already seen this in primary work categories like sales, marketing, and HR and are now seeing it more in supporting categories like BizOps, IT Ops, etc.
Curve Health* announced a $6M Series A round led by us. When I was in business school at HBS over a decade ago, I recall Professor Clay Christensen discussing his new book The Innovator's Prescription. It applies his famous theory of "disruptive innovation" to the healthcare industry. His basic assertion in the book is that the only way to lower the cost of healthcare delivery is to use technology to move it out of hospitals and into cheaper care environments — eventually in the patient's home.
Curve aligns with that vision. It has developed a platform which merges telemedicine, smart billing, revenue cycle management, health information exchange, and predictive analytics in order to provide care for seniors. COVID-19 is a critical inflection point for telemedicine, and no population needs it more during the pandemic than seniors. Curve has a chance to become the connective fabric to the healthcare system for this growing population of Americans.
Hubilo* announced a $4.5M seed round led by us. The company had built an event management platform for physical events prior to COVID-19, but quickly pivoted to supporting virtual events when the pandemic hit. The pivot was inspired by what our team saw in China's COVID-19 recovery — that the majority of offline conferences went online, and stayed that way when restrictions lifted. We think that the event space is at a critical inflection point. Those corporate gatherings that do occur when life returns to "normal" will have a significant digital component as well.
Betty Labs*, makers of the Locker Room app, announced a $9.3M seed round led by our friends at Google Ventures with participation from us. Lightspeed first invested over a year ago, prior to Locker Room's launch. We continue believe that audio is the most unexploited medium for a social platform and that passive consumption is a major use case. Sports talk radio is a strong legacy analogy for what Locker Room is building, but with so much more interactivity and engagement.
Eightfold* announced a $125M Series D at a $1B valuation led by our friends at General Catalyst with strong support from us and other insiders. The company has broken out as the leading AI-based system of record for talent. My partner Peter Nieh, who sponsored our seed investment in the company 4 years ago, writes:
The three most important assets a company has are the product/service it provides, its customers, and its people. Software companies that have built systems of record for and helped manage each of these core assets have become category-defining and highly-valued. For product/service, there is ERP/MRP (SAP, ORCL). For customers, there is CRM (e.g., Salesforce). For people, there is HRM (Workday, SAP/SuccessFactors). However, HRM is just about the administration of employees. There is no system of record for talent (people's skills, capabilities, experiences relative to company needs). This is fundamentally Eightfold's opportunity.
Importantly, Eightfold's AI system pays careful attention to talent diversity. It removes implicit recruiter bias by using NLP to hide evidence of age, gender, ethnicity, or equivalent categories in candidate profiles.
Reading these announcements, I am reminded that resilient founders find opportunity even during the most unconventional times. COVID-19 has clearly accelerated transformations in commerce (Faire), telemedicine (Curve), digital events (Hubilo), and media (Locker Room). In addition, the ongoing application of AI to various parts of the enterprise stack (Theta Lake, Salto, Eightfold) continues to change how we work. Whether in consumer, enterprise, or healthcare, the cutting edge of technology has never been so exciting or ripe with potential.
---
Tweet of the Week
---
Links I Enjoy
#commerce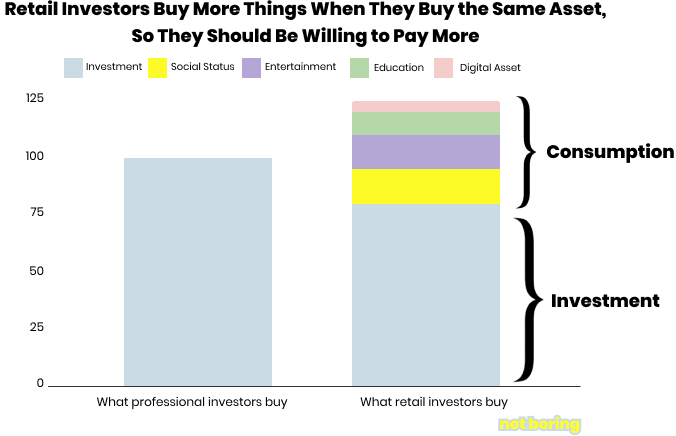 Packy McCormick of Not Boring wrote a must-read piece that ties together the surge in public equities with the rise of a new class of "digital asset" platforms. His key insight is that financial markets are behaving more like a Veblen good — where demand increases with price. During COVID-19, luxury goods spending plummeted and savings rates expanded. Without spending money on fancy bags or cars, some consumers have extra financial reserves and are looking for ways to express their preferences, and maybe flex a bit in front of their friends.
Packy extends the idea beyond conventional stocks to other types of assets: art, classic cars, real estate, and cryptocurrencies. He claims "the ultimate digital asset might be investments in traditional assets with new digital interfaces."
In "Firehose #178: North Star," my One Big Thought was the north star metric, and how many companies choose a concept based on share of wallet (SOW). Julia Morrongiello of Point Nine Capital reached out to me to share her own piece on how to calculate SOW. It adds a lot of useful detail that I left out. If you enjoyed #178, I'd encourage you to read her piece as a follow up.
#media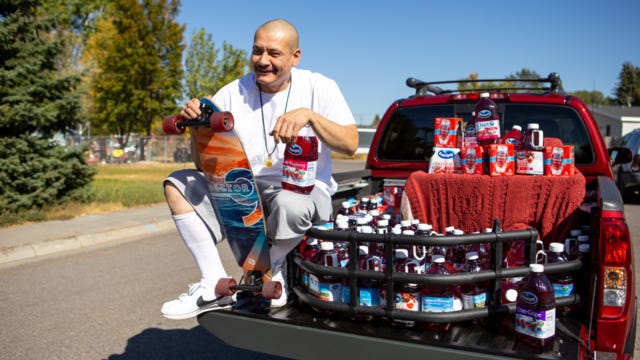 The world has plenty of reasons to be stressed out right now. For a few moments, Nathan Apodaca collectively chilled out the world when he uploaded a TikTok vibing out to Fleetwood Mac on his skateboard and guzzling Ocean Spray cranberry juice. The moment was such a pure expression of Ocean Spray's brand ethos that the company quickly hopped on the opportunity to get its CEO on a skateboard, responding to the meme. Now Apodaca has a new car, courtesy of Ocean Spray, and doesn't need to skateboard to work anymore!
#tech
My Lightspeed partner Nnamdi Iregbulem wrote a phenomenal research piece that asks the question, "Where are all the developers we need?" He shows with data that software development skills depreciate faster than other technical skills and, therefore, the industry has something of a leaky bucket problem. Fascinating!
#science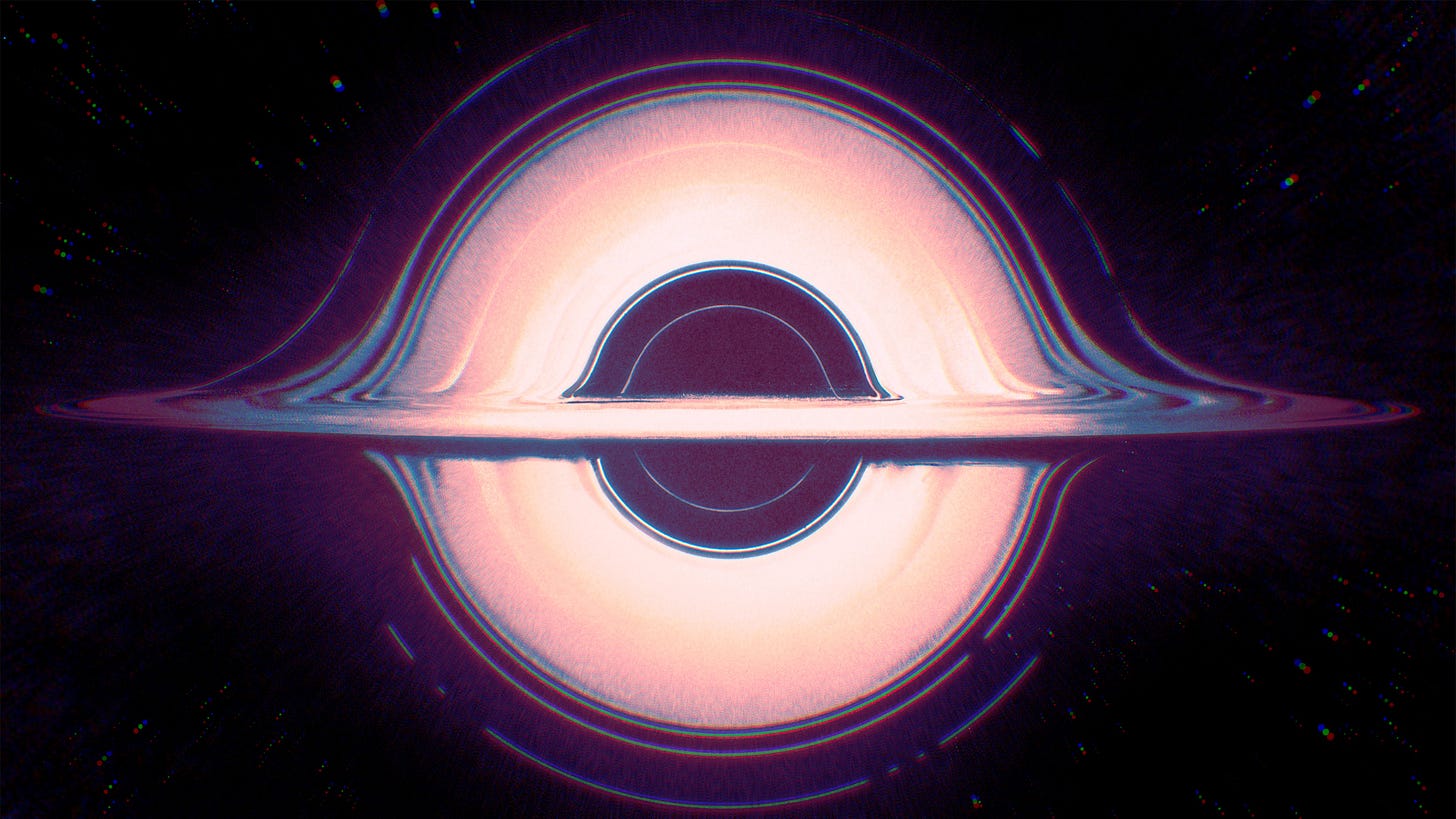 At the heart of physics, lies a deep conflict between Einstein's theory of general relativity, which governs the very large, and the theories of quantum physics, which govern the very small. In normal circumstances, these theories don't have the opportunity to come into conflict, but in black holes they do. The attempt to resolve this conflict, in the context of a black hole, is one of the most intractable problems in all of physics.
Recently theoreticians made progress on resolving a paradox regarding how black holes handle the information associated with the objects they consume. This article describing the development of these theories is difficult to parse, but is worth reading for nuggets like this one:
But almost everyone appears to agree on one thing. In some way or other, space-time itself seems to fall apart at a black hole, implying that space-time is not the root level of reality, but an emergent structure from something deeper. Although Einstein conceived of gravity as the geometry of space-time, his theory also entails the dissolution of space-time, which is ultimately why information can escape its gravitational prison.
The idea that "space-time is not the root level of nature, but instead emerges from some underlying mechanism that is not spatial or temporal" makes the imagination run wild with possibilities.
#culture
Where did the modern image of a ghost come from? This article traces its origin to the burial shrouds used to cover dead bodies hundreds of years ago. Wealthy people were buried in coffins, while the poor were buried in a simple shroud.
The author also traces a sharp uptick in the iconography of the white shroud to an incident in London in 1803, where a hoax regarding a local ghost resulted in the accidental shooting of a man dressed in white. He then supposedly started haunting the town. Children began to dress in bedsheets to imitate the form of this particular ghost, but eventually the imitation (the bedsheet) began to replace the original (the shroud). The bedsheet image has stuck in popular culture through today.
---
Enjoyed this newsletter?
Getting Drinking from the Firehose in your inbox via Substack is easy. Click below to subscribe:
Have some thoughts? Leave me a comment:
Or share this post on social media to get the word out:
---
Disclaimer: * indicates a Lightspeed portfolio company, or other company in which I have economic interest. I also have economic interest in AAPL, ADBE, AMT, AMZN, BABA, BRK, BLK, CCI, CRM, GOOG/GOOGL, FB, HD, LMT, MA, MCD, MSFT, NSRGY, NEE, PYPL, SHOP, SNAP, SPOT, SQ, TMO, TWLO, VEEV, and V.
Header image credit: Credit to "30 Rock".