Discover more from Drinking from the Firehose
A weekly(-ish) newsletter on commerce, media, science, tech, investing, & internet culture by Alex Taussig. I am a partner at Lightspeed in Silicon Valley.
Over 9,000 subscribers
Firehose #178: 🌟 North star. 🌟
How to make strategy quantitative. Plus: running remote, designing for algo's, super Zooms, and RIP EVH.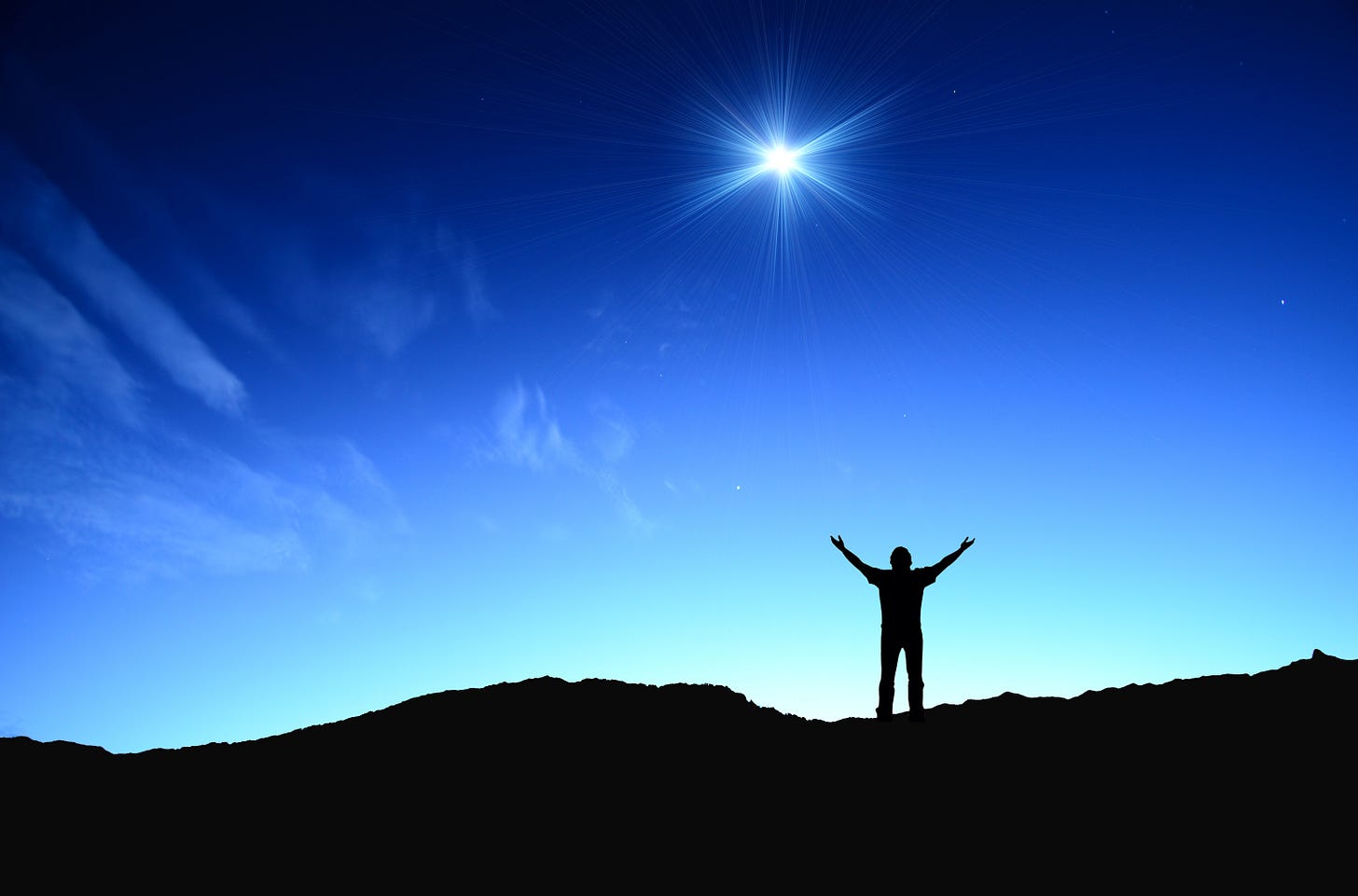 One Big Thought
The work of a venture capitalist (VC) takes many forms. Some VCs tend to focus on helping startups achieve product/market fit. Others focus on optimizing a go-to-market motion. Still others help with organizational design and operations.
All these tactical ways that VCs can assist a growing company are important, but ultimately they are temporary fixes to transient problems. Once you figure out product/market fit, you must answer newer questions about growth and profitability. Once you figure out go-to-market, then you have to scale the machine and figure out how to "feed the beast" at the top-of-funnel. Your organizational design will likely change every few years, resulting in an operational model that must evolve as well.
In contrast to tactics, strategy should not change nearly as often. One of the highest leverage activities a VC can assist with is helping a founder make key strategic decisions. Unlike a founder, who may work on 2-3 successful companies in an operating career, an experienced VC might work on dozens of unrelated companies and bear witness to multiples of hard strategic decisions and their consequences. Over my decade in VC, I've found that advising entrepreneurs at key decision points is some of the most consequential (and the most satisfying) work I do.
When we discuss strategy, I usually start from a place of definition. Strategy often gets mixed up in other similar concepts like mission and vision, but it's meaningfully different. I like this popular treatment from Harvard Business Review, which separates mission, vision, value network, and strategy into 4 canonical questions — the "what?", "why?", "who?", and "how?", respectively.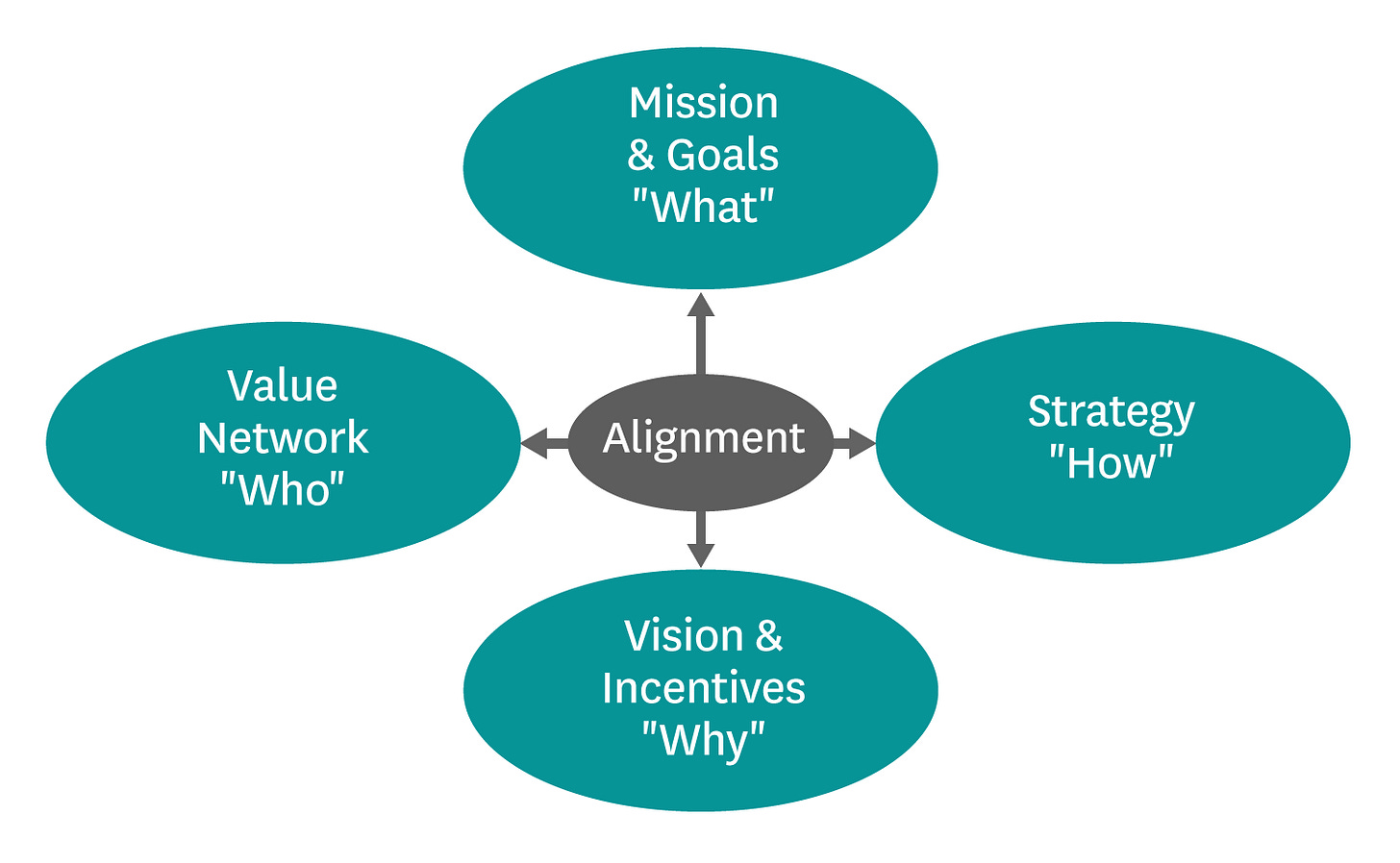 The mission is about what will be achieved; the value network is about with whom value will be created and captured; strategy is about how resources should be allocated to accomplish the mission in the context of the value network; and vision and incentives is about why people in the organization should feel motivated to perform at a high level. 
One tricky part about implementing a strategy is measuring your organization's performance against it. Ideally, the entire company should be focused on moving a single, strategic "north star" metric (NSM) that shows forward motion on the strategic path.
Because it's aligned with strategy, the NSM is a leading indicator of value creation. Every tactical initiative at the company should, in some way, produce momentum in the NSM, as shown in the below picture from this blog post. Once the NSM is selected properly, strategy just boils down to allocating resources against a portfolio of initiatives which are most likely, on a risk adjusted basis, to move the NSM in the right direction.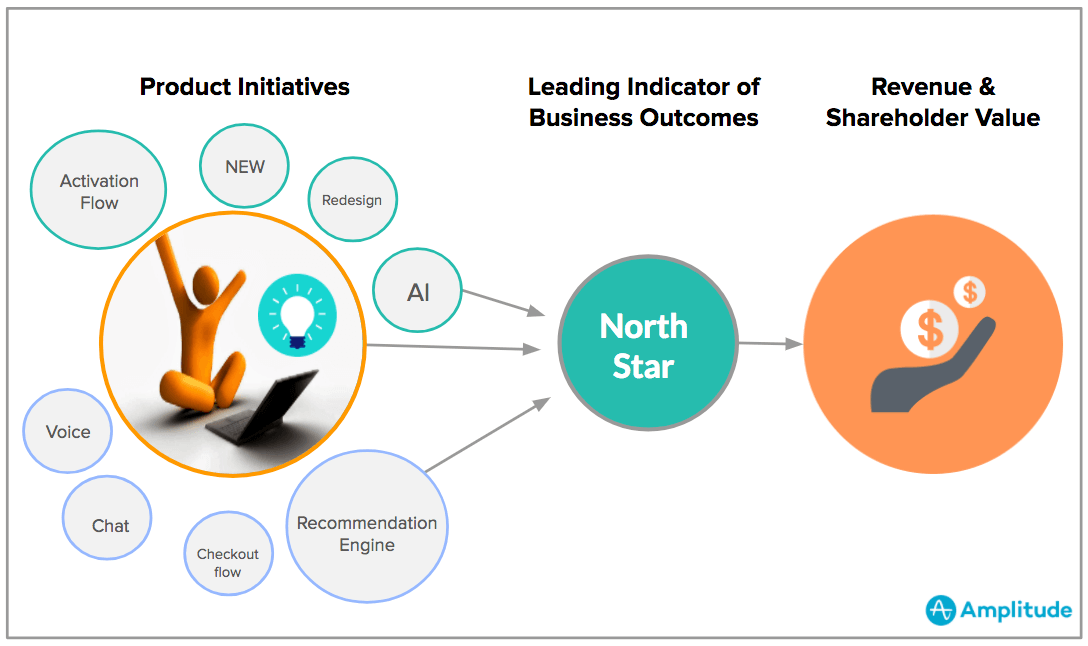 I usually advise founders who are searching for an NSM to start with a "share of wallet" concept. Look at how your customers spend their money, time, or whatever else is valuable to them. Gaining an increasing share of that scarce resource, relative to competitors, often translates into progress along your strategic goals.
Here are a few examples of NSM's from companies in the Lightspeed portfolio:
Faire* is a wholesale marketplace for independent retailers who are purchasing goods for their stores. The company identified retailer "share of wallet" (SoW) as an NSM for the purposes of growing its marketplace. The more SoW at a retailer, the more data Faire has on what is sold, which means it has the ability to better match brands to that retailer's needs. Better matches increase incentives for new brands, which in turn makes Faire more compelling to the next retailer to join the platform. More data also helps drive Faire's risk model, which drives down returns and improves margins. Faire then can invest those margin improvements into more incentives to acquire new customers. Because SoW accrues value to both growth and profitability, any initiatives that move SoW forward at Faire are considered top priorities.

TripActions* is a full service travel management platform for enterprises. It identified "travel bookings under management" (TBUM) as its NSM. Employees book their travel in various ways, but benefit when they consolidate their TBUM with TripActions by getting a holistic view of their travel. Travel often consists of multiple modalities. A canceled flight may require a change in a rental car or hotel booking. Once an employee moves all their travel to TripActions, their lives become much easier. As TBUM grows with new customers, TripActions has more volume with its travel partners (airlines, hotels, etc) and is therefore able to provide better integrations. Tighter integrations lead to a superior user experience, which makes it easier to sign up the next marginal customer and continue to grow TBUM.

Daily Harvest* is the leading e-commerce service for easy-to-prep frozen meals. It targets an NSM called "share of stomach" (SoS) when inventing new meal collections that address incremental day parts or taste profiles. While Daily Harvest started with smoothies (targeting breakfast, or post-workout), today it offers a wide variety of meals and snacks, including harvest bowls, flatbreads, and ice creams. When customers upgrade their boxes to larger sizes and use Daily Harvest for new day parts, the company uses the additional cash flows to invest in the development new products to grow SoS further. It also gains more data on consumption patterns with higher SoS, which drives more intelligent marketing and merchandising decisions, ultimately leading to increased customer acquisition. Unsurprisingly, customers with the highest SoS are the least likely to leave the service and the most likely to grow spend over time.
Larger companies often use a NSM to frame their strategic efforts. Netflix* famously focuses on a "time spent streaming" metric, more so than subscribers or revenue — hence, Reed Hastings' quip that Netflix's greatest competitor is sleep. Snap* uses an NSM of "daily snaps sent" because messaging is the core driver of Snapchat's engagement. In layering new products into Snapchat, Evan Spiegel likes to ask, "What other things can users do while they're waiting for friends to respond?" When snaps flow freely between users, Snapchat has a differentiated right to offer media, games, or other products on top of messaging.
Coming up with a solid NSM that's a leading indicator of value in your company is an impactful activity that will continue to bear fruit as your company grows. If you haven't engaged your lead investors and advisors on this topic, I'd recommend you do so.
In addition, I'd love to write a follow up to this piece with the NSMs of your favorite companies, especially those that are unconventional or even outside tech. Please respond with your suggestions!
---
Tweet of the Week
---
Links I Enjoy
#commerce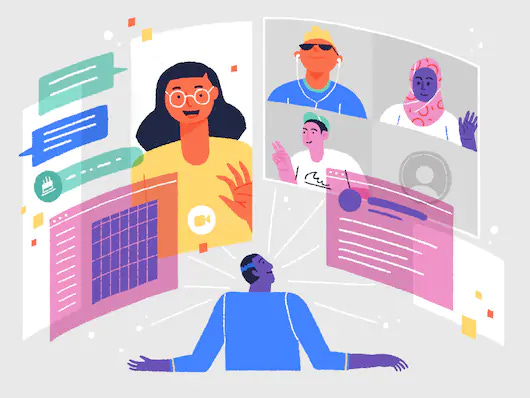 As more startups adopt remote work policies, companies are becoming more explicit about how that work is done. "Head of Remote Work" job openings are now more commonplace and mark the evolution of the roles of the COO and CHRO. This excerpt explains the role in greater detail:
He compares a "head of remote" setup to adding a chief diversity officer — someone held accountable for keeping equity and inclusion issues at the forefront when decisions are being made about policies, hiring, retention and benefits across big companies. In practice, Murph says the job could include writing guidelines for things like reducing meetings and navigating time zones, acting as a liaison to legal teams thinking through tax issues for employee moves, planning online events to keep the company culture from fading and advocating for remote employees when planning benefits.

"You have to re-architect or at least rethink every element of how you work, from [technology] tools to 'Do we have set working hours?' " he said. "Some people have access to an on-site gym — do we now have a wellness credit for those that don't?"
#media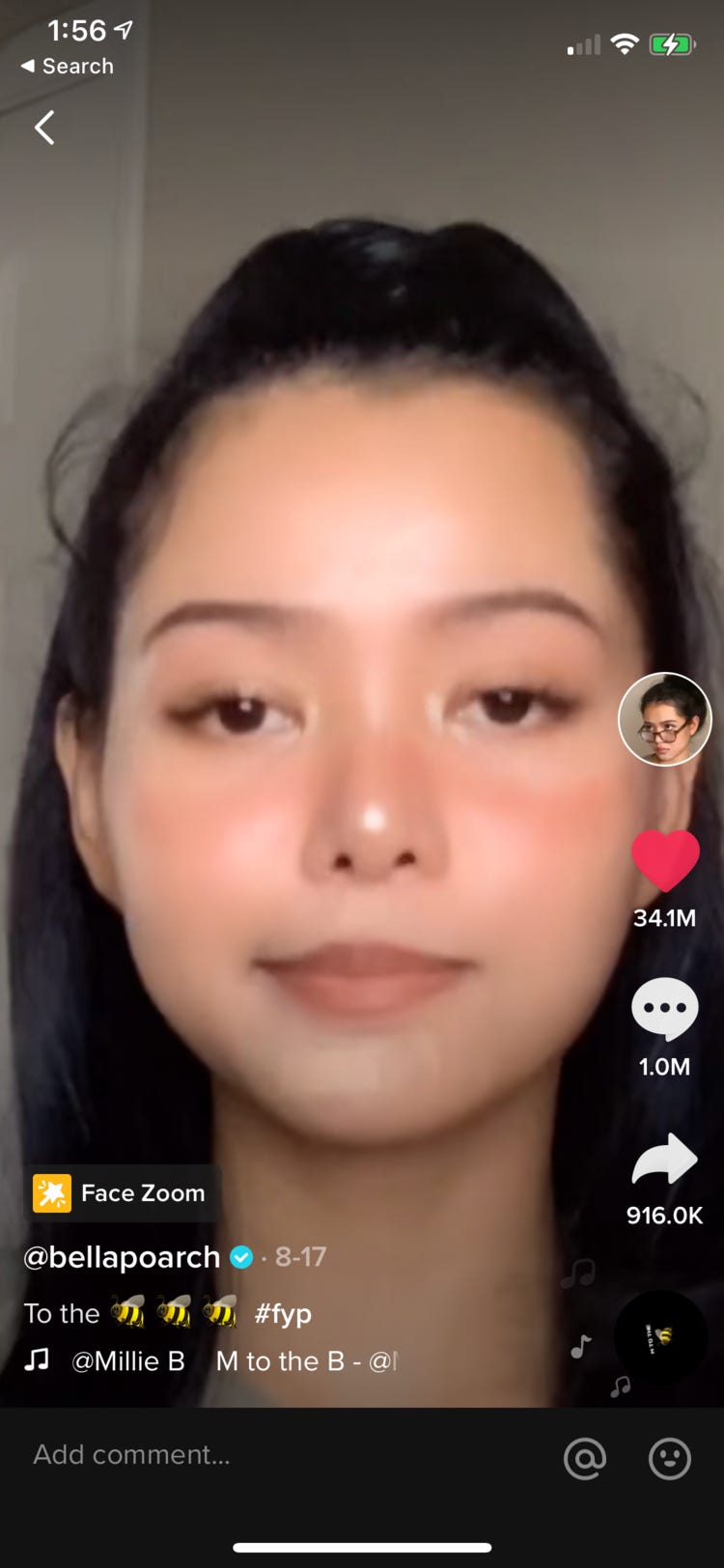 Blockbuster social platforms create an initial moat by breaking an established design paradigm. Facebook* did this initially by creating a closed network when conventional wisdom held that open networks like Myspace would reach a larger set of users. Snap* did this initially by creating ephemeral messaging at a time when no one believed you could build an ads business with disappearing media that lacked a scrolling feed. And most recently, TikTok did this by throwing out infinite scrolling feeds entirely and focusing the user on a single piece of content in the viewport at a time.
In his most recent piece on TikTok, Eugene Wei writes that, by forcing the user to experience content piece-by-piece, TikTok creates more friction for the user. But that friction creates more engagement on a given video, which gives its algorithm more data to train its "For You Page" model. That model then serves you more relevant content to the point where your engagement ends up higher than an equivalent, "low friction" linear feed like Instagram, Twitter, or Pinterest. This algorithm-first design only works when you get extremely granular info on each piece of content.
#tech
NVIDIA released a mindblowing demo of some AI features applied to the use case of video conferencing. Maybe it's just because I spend 8+ hours a day on Zoom now, but I was supremely giddy watching these demos. These features are wrapped into NVIDIA's own Maxine video conferencing product, but I have to imagine that this is more of a demo product and that it will ultimately be productized in some sort of GPU cloud offering and OEM'd into 3rd party video services.
#science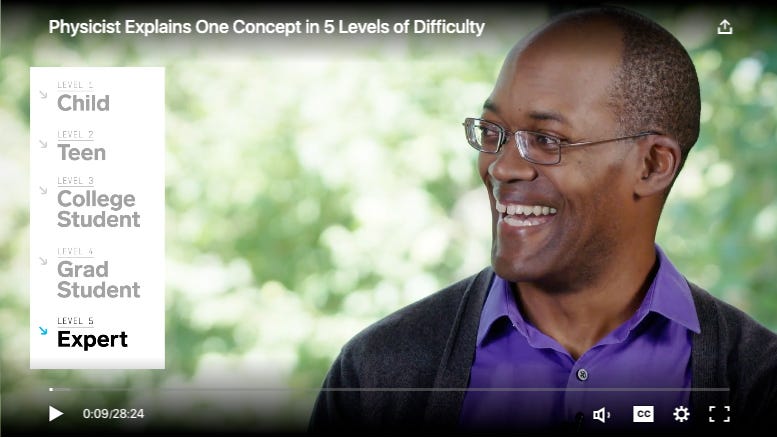 Wired has a series where they have experts try to explain complex subject matter at 5 different levels of difficulty. This week's episode was on the topic of extra dimensions. If you have some background in physics or math, I'd recommend skipping to level 4, where the two participants start to discuss spacetime and string theory. The incredible creativity behind these ideas on how the universe works reminds me of why I fell in love with the explanatory power of physics years ago.
#culture
The world lost a guitar icon this week with the passing of Eddie Van Halen. Every guitar player remembers the first time they heard "Eruption." It was like an alien came down to Earth with extra fingers, making sounds that you didn't think possible on the instrument. Not since Jimi Hendrix had anyone left that sort of impression on players around the world.
I could have shared a number of performances, but was drawn to this video (released a day before his death was announced) that shows "what if?" folks like EVH played the solo on Led Zeppelin's "Stairway to Heaven." The person "playing" EVH really shows off what's distinctive about his style. Enjoy!
---
Enjoyed this newsletter?
Getting Drinking from the Firehose in your inbox via Substack is easy. Click below to subscribe:
---
Disclaimer: * indicates a Lightspeed portfolio company, or other company in which I have economic interest. I also have economic interest in AAPL, ADBE, AMT, AMZN, BABA, BRK, BLK, CCI, CRM, GOOG/GOOGL, FB, HD, LMT, MA, MCD, MSFT, NSRGY, NEE, PYPL, SHOP, SNAP, SPOT, SQ, TMO, VEEV, and V.
Header image credit: https://chiefexecutive.net/never-establish-company-north-star/