Discover more from Drinking from the Firehose
A weekly(-ish) newsletter on commerce, media, science, tech, investing, & internet culture by Alex Taussig. I am a partner at Lightspeed in Silicon Valley.
Over 9,000 subscribers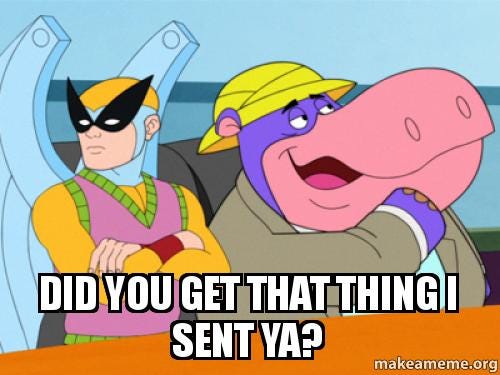 Why am I getting this?
I started Drinking from the Firehose almost 4 years ago on a platform called TinyLetter. When this community grew beyond a couple hundred regular readers, I decided to upgrade to Mailchimp, which owns TinyLetter. I grew most of my subscriber base through a newsletter powered by Mailchimp, with a custom template that I built with a design firm. Most of you who are receiving this email now originally signed up through Mailchimp.
I've decided to move on from Mailchimp. My open rate plummeted from 45-50% to something in the single digits in the last few weeks. Many of you are telling me the newsletter is going to your spam folder. I also noticed in my G Suite account at work that my spam filter was spontaneously reset by Google a few weeks ago. It's not clear to me if the deliverability problem is Mailchimp's fault, Google's fault, or both.
I've been using Substack for quite some time, sending both newsletters on the same day with redundant content. The extra overhead was "worth it" to me because I assumed that those of you who signed up for Mailchimp wouldn't want to take the effort to adopt a new service. But, now you're not even getting the newsletter, which kind've defeats the purpose!
So, this weekend I merged all my subscribers onto Substack. I'm excited to consolidate around this platform, which will hopefully streamline my workflow and (most importantly) help get this newsletter to you each and every week(ish).
Thanks again for your support, and feel free to reach out with any questions or concerns.
---
Enjoyed this newsletter?
Getting Drinking from the Firehose in your inbox via Substack is easy. Click below to subscribe:
---
Disclaimer: * indicates a Lightspeed portfolio company, or other company in which I have economic interest. I also have economic interest in AAPL, ADBE, AMT, AMZN, BABA, BRK, BLK, CCI, CRM, GOOG/GOOGL, FB, HD, LMT, MA, MCD, MSFT, NSRGY, NEE, PYPL, SHOP, SNAP, SPOT, SQ, TMO, VEEV, and V.