Discover more from Drinking from the Firehose
A weekly(-ish) newsletter on commerce, media, science, tech, investing, & internet culture by Alex Taussig. I am a partner at Lightspeed in Silicon Valley.
Over 9,000 subscribers
Firehose #174: 🏰 Moats get deeper. 🏰
Takeaways from the first post-COVID earnings quarter, and implications for "the great acceleration" of the tech industry.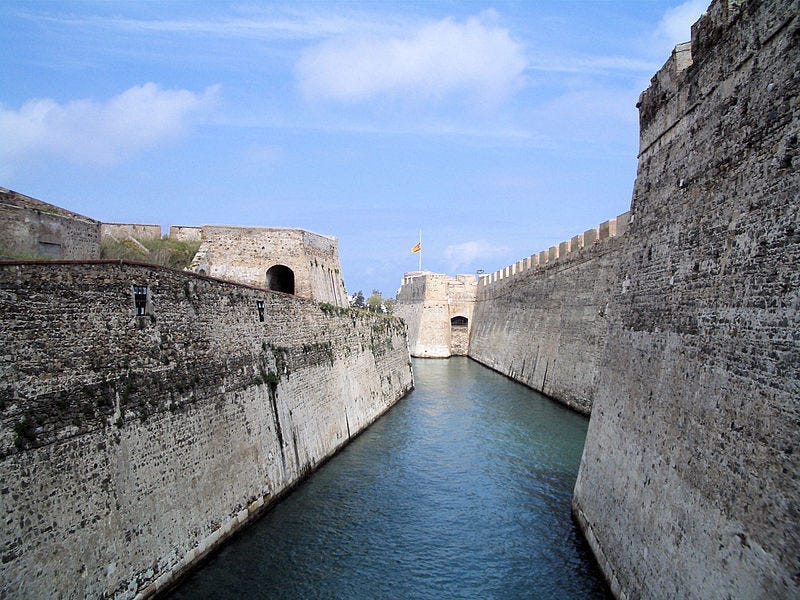 Update
This week I ran out of time to publish my usual link commentary. I did put a good amount of work into my One Big Thought, however, and hope you find it interesting.
I also want to flag that I have family visiting the next few weeks and will be working less than usual. As such, I may skip publishing for a bit. Thanks as always for your support and enthusiastic feedback.
One Big Thought
This Q2 earnings season is the first to occur entirely in a post-COVID world.
The performance of major U.S. tech companies has illuminated their resilience compared to leading companies in other sectors. To illustrate this point, I pulled data from Finbox on companies that have reported earnings since the beginning of July and tabulated their performance against consensus revenue and earnings per share (EPS) targets. I added 1-day performance post earnings as well.
The data is shared in this spreadsheet. Unfortunately, Mailchimp makes image embedding tricky, so only Substack subscribers will see them below. The rest of you can click through to browse the spreadsheet.
As shown below and linked in the spreadsheet, tech is the only sector to surprise to the upside on both revenue and EPS in the post-COVID environment.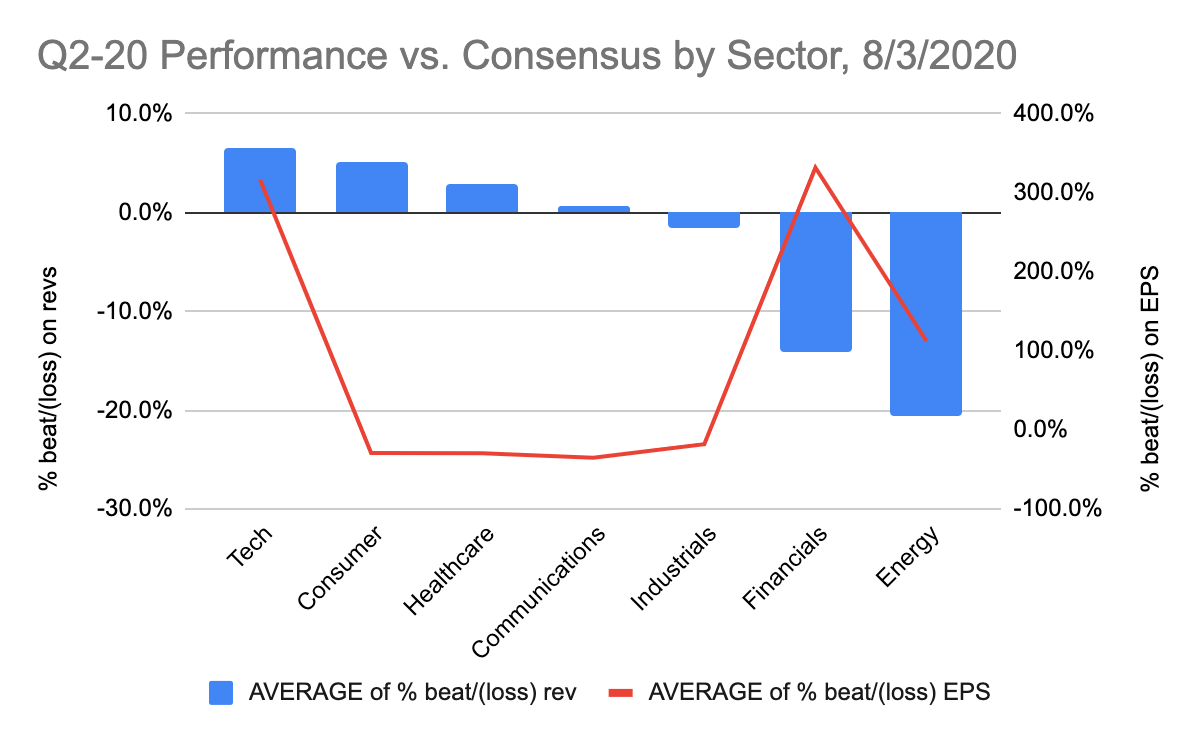 While 12 of the 14 tech companies reporting earnings to date beat their Q2 revenue targets, only 4 of the 14 beat on EPS: SHOP*, AMZN*, SPOT*, and TWTR. These beats were large enough to swing the average EPS beat positive for the tech sector.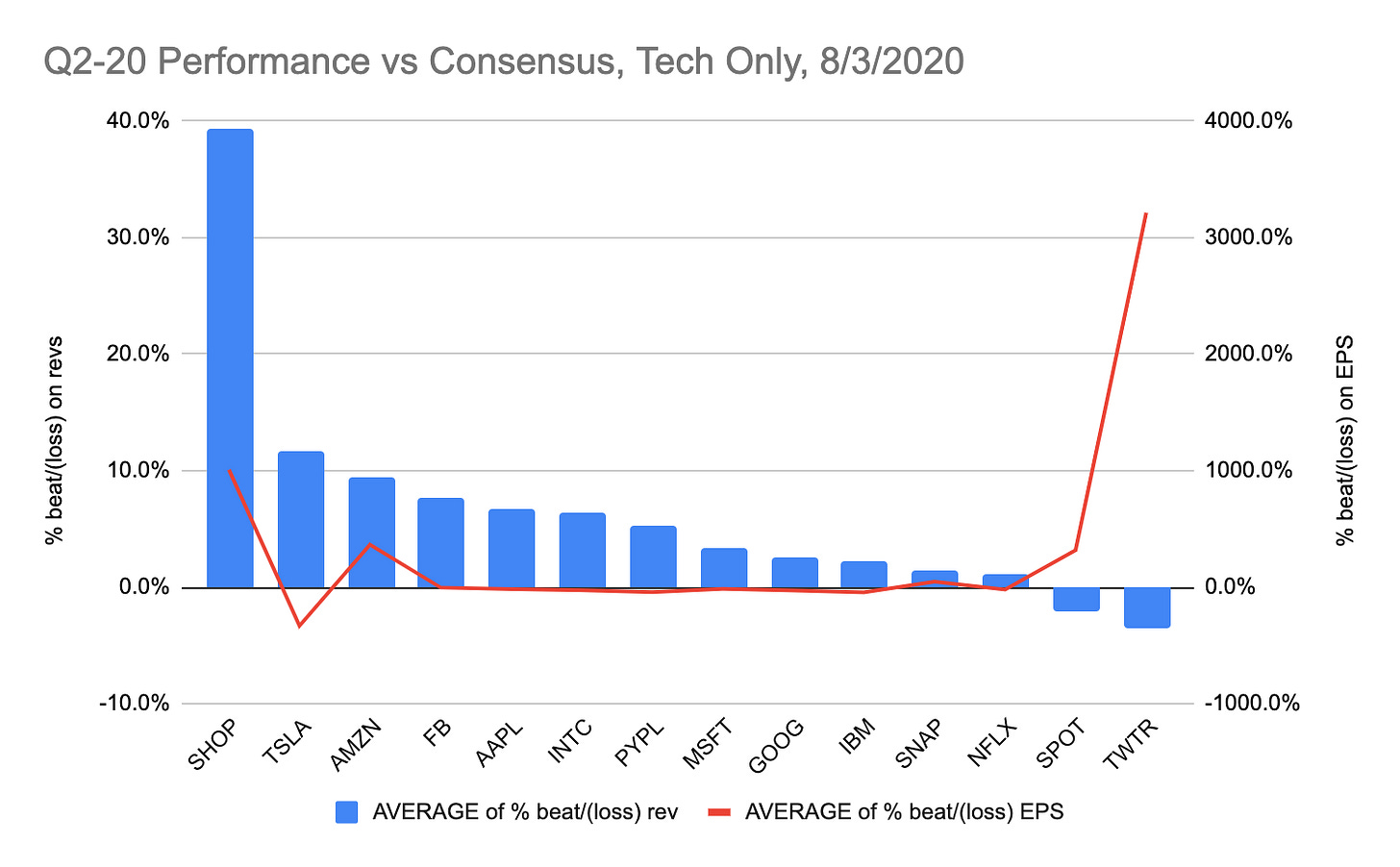 On average, other sectors have shown a tradeoff between beating revenue and EPS, or have shown lackluster performance on both fronts. The tech sector, along with consumer and healthcare, has also shown favorable stock performance 1-day post-earnings.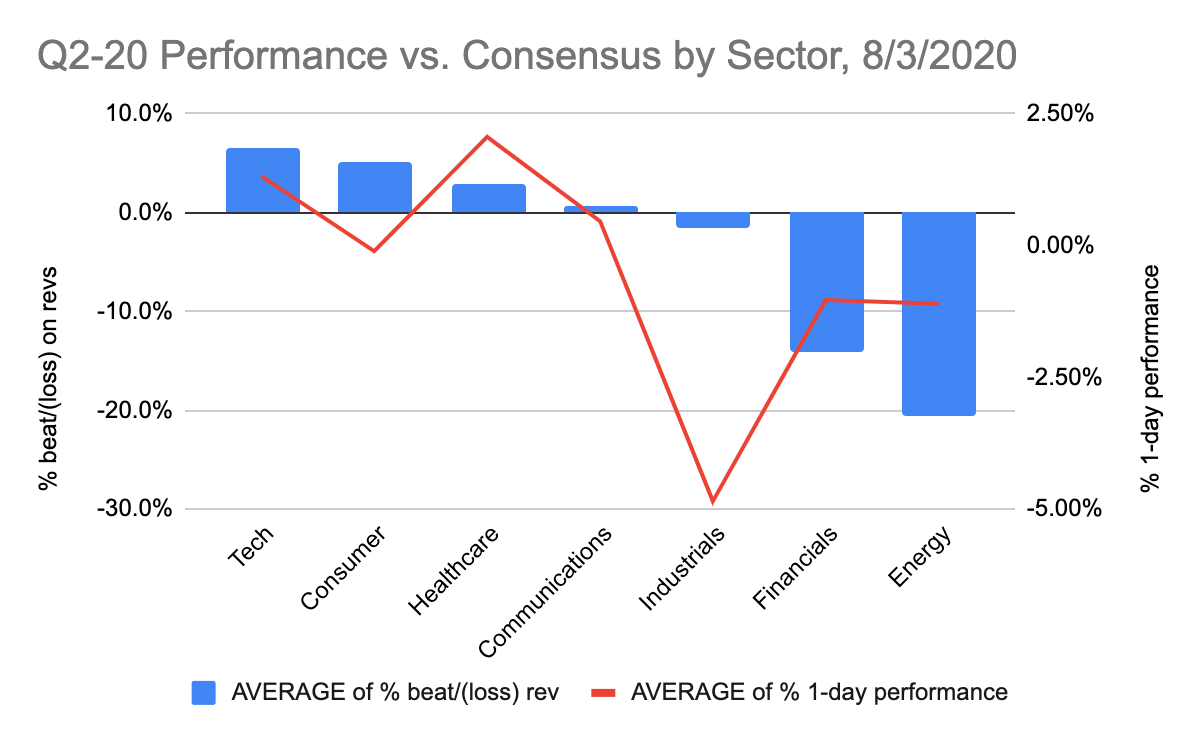 1-day performance has less to do with the size of the revenue or EPS beat/(loss), and more to do with the sector. Once again, tech dominates on this dimension. Only 3 of the 14 tech names (INTC, SPOT*, SNAP*) finished down post-earnings.
The story these numbers tell is consistent with one told by McKinsey this week. The Great Acceleration is what it calls the separation between new and old economy companies in the post-COVID world. Consistent with my past thinking on this crisis, COVID has not created new behaviors, but has accelerated the transition to a digital economy which was already underway. We see this acceleration evidently in remote work (ZM), online education (CHGG), telehealth (TDOC), and e-commerce (SHOP). Investors are now increasingly confident that many of these changes will stick after a vaccine arrives.
In this article, McKinsey reports that the dispersion in expected corporate profits implied by recent stock price movements has departed significantly from historical norms. The top quintile of companies have gained $335B in expected profits, relative to a 2018 baseline, while the bottom quintile has lost nearly the same amount.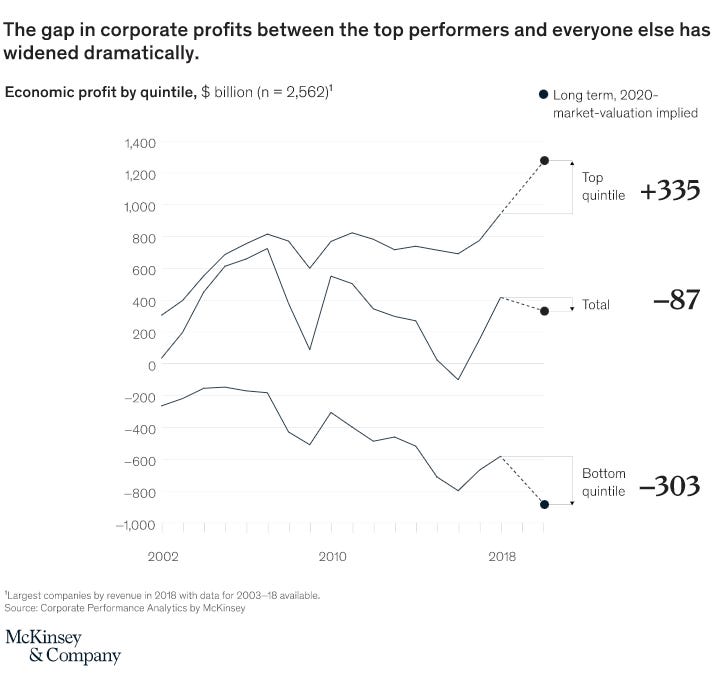 The sector breakdown of these gains is consistent with the Q2 stock market performance data. It shows that most of the gains accrue to technology and tech-mediated businesses.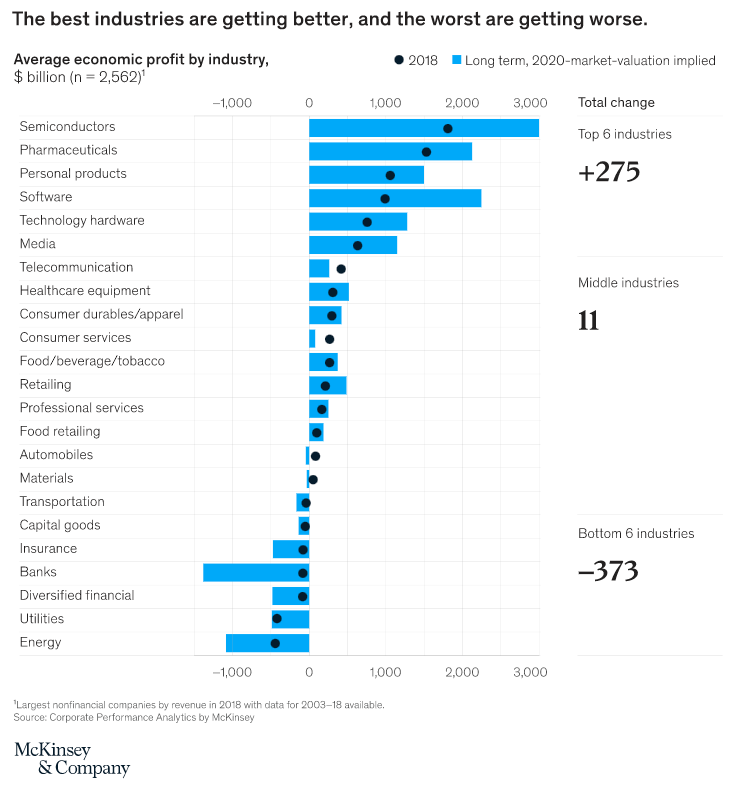 It may be tempting to think of COVID as a one-time, temporary windfall for some companies, but that's not correct. Businesses with real moats will deepen those moats. AMZN will build out more data centers, TSLA will scale operations to lower unit costs, AAPL will subsidize its emerging payments infrastructure, PYPL will acquire more users in its peer-to-peer network, and so on. Compounding returns to scale means that the separation between tech and the rest of the economy will only grow post-COVID.
---
Tweet of the Week
---
Enjoyed this newsletter?
Getting Drinking from the Firehose in your inbox via Substack is easy. Click below to subscribe:
---
Disclaimer: * indicates a Lightspeed portfolio company, or other company in which I have economic interest. I also have economic interest in AAPL, ADBE, AMT, AMZN, BABA, BRK, BLK, CCI, CRM, GOOG/GOOGL, FB, HD, LMT, MA, MCD, MSFT, NFLX, NSRGY, NEE, PYPL, SHOP, SNAP, SPOT, SQ, TMO, VEEV, and V.
Header image credit: https://commons.wikimedia.org/wiki/File:Moat_of_Royal_Wall_At_Ceuta_2.jpg