Discover more from Drinking from the Firehose
A weekly(-ish) newsletter on commerce, media, science, tech, investing, & internet culture by Alex Taussig. I am a partner at Lightspeed in Silicon Valley.
Over 9,000 subscribers
Firehose #173: 🥛 Wild oats. 🥛
Oatly's unlikely success. Plus: the B2B commerce loop, Hollywood grinds to a halt, monetizing communities, and an oral history of the Super Soaker.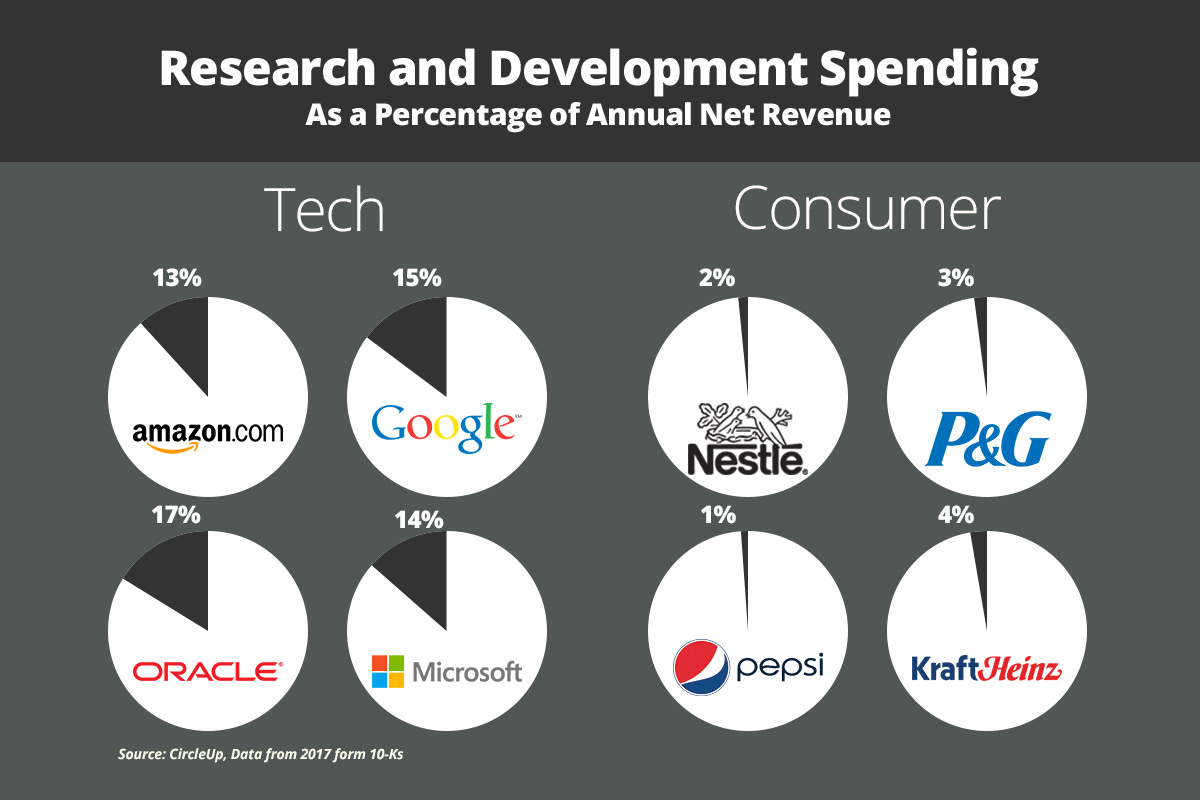 One Big Thought
Innovation in food CPG is all but nonexistent. Unlike tech companies, the biggest CPG firms spend a paltry amount on R&D — around 2-3% of revenues.
Those same CPG companies spend an average of 9% on sales & marketing. Accordingly, these companies are far better at promoting new spins on their current products (see Easter Egg Oreos, or Pink KitKats) than inventing new categories or supplanting old ones.
As a result, growth in CPG overall is flat. I used Koyfin to plot annual growth rates of some of the largest US food CPG companies (PEP, KHC, UN, TSN, KO, MDLZ, GIS). Average growth over the last 3 years in this basket is 1-2%, although COVID has caused a small bump in recent months, since Americans are eating less out of home.
Independent research confirms that large CPG grew 1.1% from 2013-17, while upstart brands grew almost 4x faster in the same time period. The contraction has caused these firms to jettison shrinking legacy brands like Lipton, Chiclets, and more. They are recycling that cash to buy smaller companies (e.g. RxBar to NYSE:K for $600m) to replace the growth they're losing.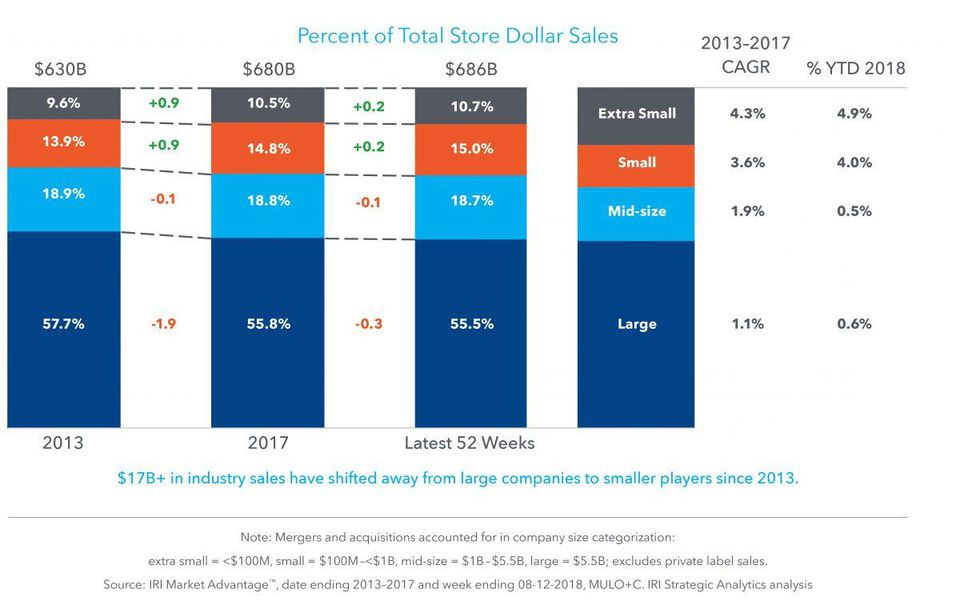 Small CPG upstarts have stolen $17 billion in market share from big CPG over the period of the study. That gap has likely increased in the last several years. As I wrote in "Disrupter brands (Firehose #130)," 48% of Americans purchased from at least one DTC brand last year. I suspect that number is much higher post-COVID. Increasingly those brands are CPGs, not just apparel and home goods companies.
Quoting myself:
[Disrupter brand buyers] find value in a bidirectional communication of brand values and product feedback. Not surprisingly, those who shop these brands tend to be younger, more wealthy, and far more likely to promote their favorites in social channels.
In Firehose #131, I referenced my partner Jeremy Liew's post on common tactics that disrupter brands use to reach customers. In summary:
1. Content-to-commerce (Glossier, Goop*): If you have an audience that's already telling you want it wants, just make that thing.

2. Monetize organic fandom (Fenty, Haus Labs*, Honest Company*): Start with a person who is widely known and build a product that is authentic to her story and aligns with the needs of her fans.

3. Brand resonance loop (Away, Daily Harvest*, Warby Parker, Rothy's*): Build an iconic hero product that's highly visible and extols user virtue. New users will be attracted in an offline viral loop.
Legacy CPG is vulnerable to all three of these attack vectors, but the last one in particular is a doozy when executed well.
Right now, I can't think of a better example than plant-based milk — a $2b category in the U.S. growing 5% per year. Within the last several months, Califa Farms raised $225m, and Oatly raised $200m at a $2b valuation. In the latter case, Kevin Lee wrote a thoughtful tweetstorm on how Oatly created a billion dollar brand.
My favorite part is this tweet:
Oatly's Chief Creative Officer John Schoolcraft was bold enough to fire his entire marketing department and built it up again from scratch. He "in housed" every element of creative and reduced layers of approval, so ideas could be shipped rapidly. His team put their opinions right on the packaging, enabling Oatly to stand out amongst his generic competitors. Oatly famously slandered "normal" milk, got sued by the Swedish milk lobby, and published the lawsuit as an ad!
It's not just branding that set Oatly apart. The company also embraced coffee and tea shops as a distribution mechanism for trial. Getting trendy chains like Boba Guys on board was significant validation for this upstart brand from Sweden.
Oatly's story is remarkable because it has so many elements of what great DTC brands have gotten right, but in a different context. That is, Oatly spoke directly to its customer, shipped changes quickly, took on a rebellious tone, and sought validation from "celebrities" (in this case, niche coffee/tea shops) to encourage trial.
By writing this, I hope that more DTC brands learn from what's going on in food CPG right now, specifically in the alternative milk category, and adapt it to their own businesses.
---
Tweet of the Week
---
Links I Enjoy
#commerce
Anu Hariharan at Y-Combinator published a business model breakdown of wholesale marketplace Faire*, and it's quite good. With COVID-19 accelerating e-commerce from 16 to 27% of retail, one should expect the B2B supply chain backing up that growth should respond in kind.
Today, only 4% of B2B sales occur online, with Amazon Business driving at least $10 billion in sales annually.149% of transactions are still done manually via phone, fax, or in-person meetings with sales representatives and account managers. The remaining transactions happen via electronic data exchange (EDI) and e-procurement systems, old-school technologies specifically designed for B2B transactions. The reasons for the lack of B2B aggregators are twofold: (1) brands, makers, and small manufacturers are harder to reach because they are a smaller audience that has historically been slow to adopt new technology; and (2) B2B buyer/seller transactions are complex (e.g., require payment financing, invoicing/approvals, inventory management) and requirements differ from vertical to vertical.
Faire has seen its retailers adapt resiliently to COVID-19. 80% now offer curbside pickup, and 50% offer personal shopping services. They've also shifted category mix as COVID-19 has changed buying behaviors (e.g. less apparel, more home goods).
The post concludes with some comments on Faire's growth loop. It has inspired several posts of mine on the "business in a box" concept, wherein networked supply chains are aggregated by a single transactional platform.
Costco* is a fascinating retail business with real defensibility (see "The Resilience of Costco" for more on that topic). Its Kirkland house brand is its crown jewel. Often the products sold under the Kirkland label are made by the same manufacturers of branded products, but are better and priced more attractively. The secret is that brands selling through Kirkland's label see similar contribution margins, even at a lower price point, by eliminating marketing spend and avoiding association with a competitor brand in the mind of the consumer.
#media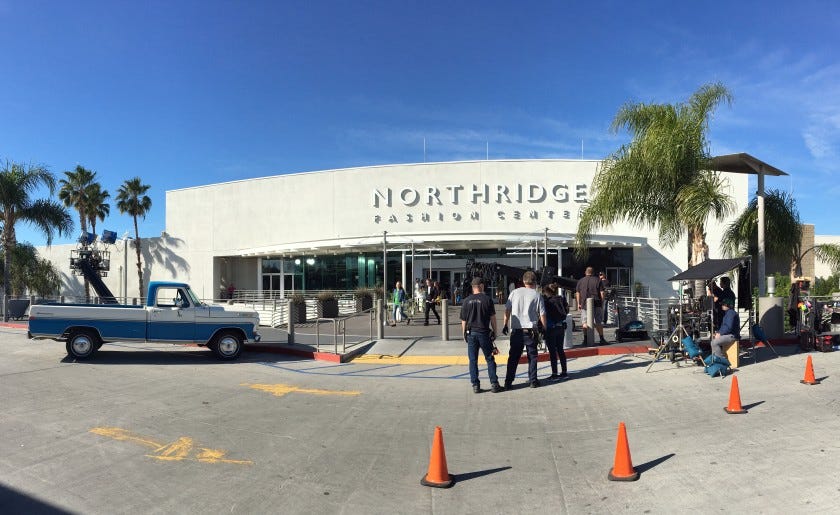 Movies and TV aren't getting filmed during COVID-19. Even location shoots for commercials were down 96% YoY in Q2-2020. This creates pipeline issues for media companies who need a constant slate of new hits to retain viewership and carriage charges with bundlers. The downstream affects of no new content will mean fewer ad dollars spent to promote those films and shows. There are also deleterious effects for all the cottage industries supported by new productions.
Netflix* may be the most capable digital media company to weather the shutdown. It claims to have already filmed half its slate for 2020, and several key productions for 2021. It also has invested heavily in animation, which doesn't require on site production, and has transitioned the teams overseas to regions with better COVID-19 responses. I've also been impressed recently with Netflix's foreign language shows, which are obviously filmed overseas, but have been successful in the U.S. I imagine they will use this capability as the U.S. lags the world's COVID-19 response.
#tech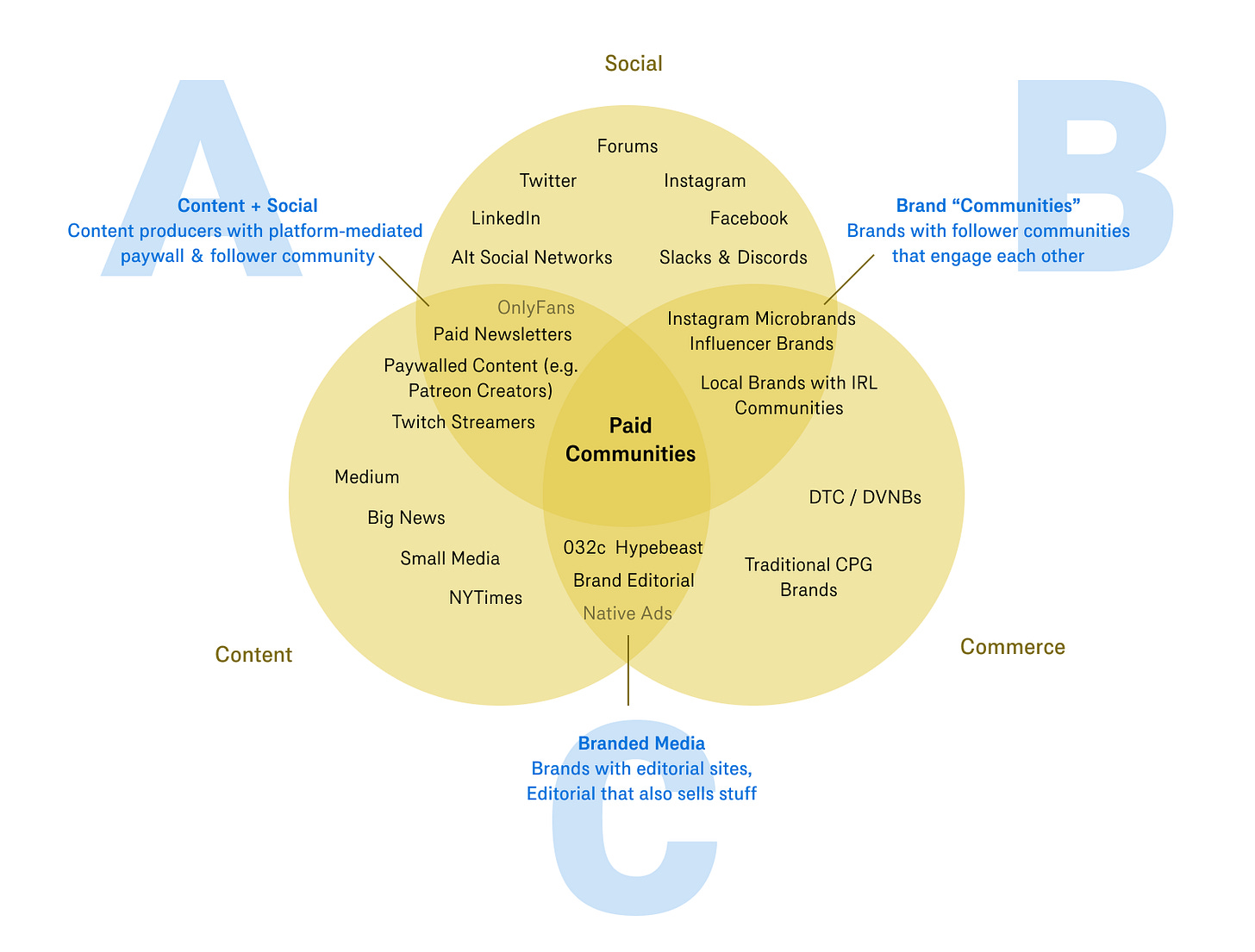 The fragmentation of social networks is a theme I've explored before around our Social2030 conference in Q1-2020. As consumers grow bored of the generic firehose of content in their social feeds, they have begun to seek niche communities to connect with others who share affinities: interests, activities, philosophies, life stages, etc.
While this insight isn't new, the business model piece seems to be clicking lately:
New social networks have typically struggled to monetize due to their small audience sizes, as they are unable to achieve the scale to make meaningful revenue from advertising. Paid communities, however, supply an engaged and paying audience, providing an alternative route to sustainability for independent social networks. At the same time, social networks solve some of the deficiencies of paid content and brand communities. This is worth understanding well.
#science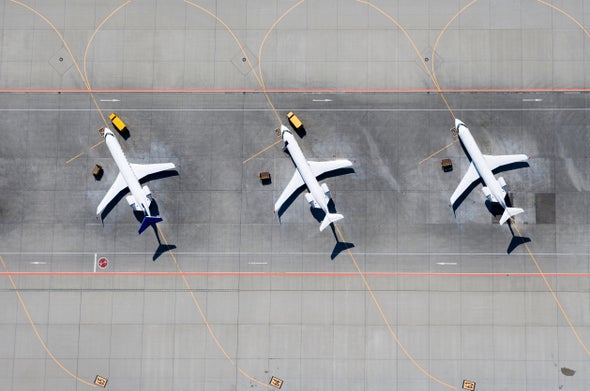 From the beginning, the impact of COVID-10 on the aviation industry was obvious. Its knock-on effects, however, have been unpredictable. For example, global weather forecasts are less accurate because commercial aircraft often carry weather equipment onboard. Without those flights, we have less weather data; hence, crummy forecasts. Scientists have seen similar declines in ocean-based measurements, although not of the same scale, since COVID-19 began.
#culture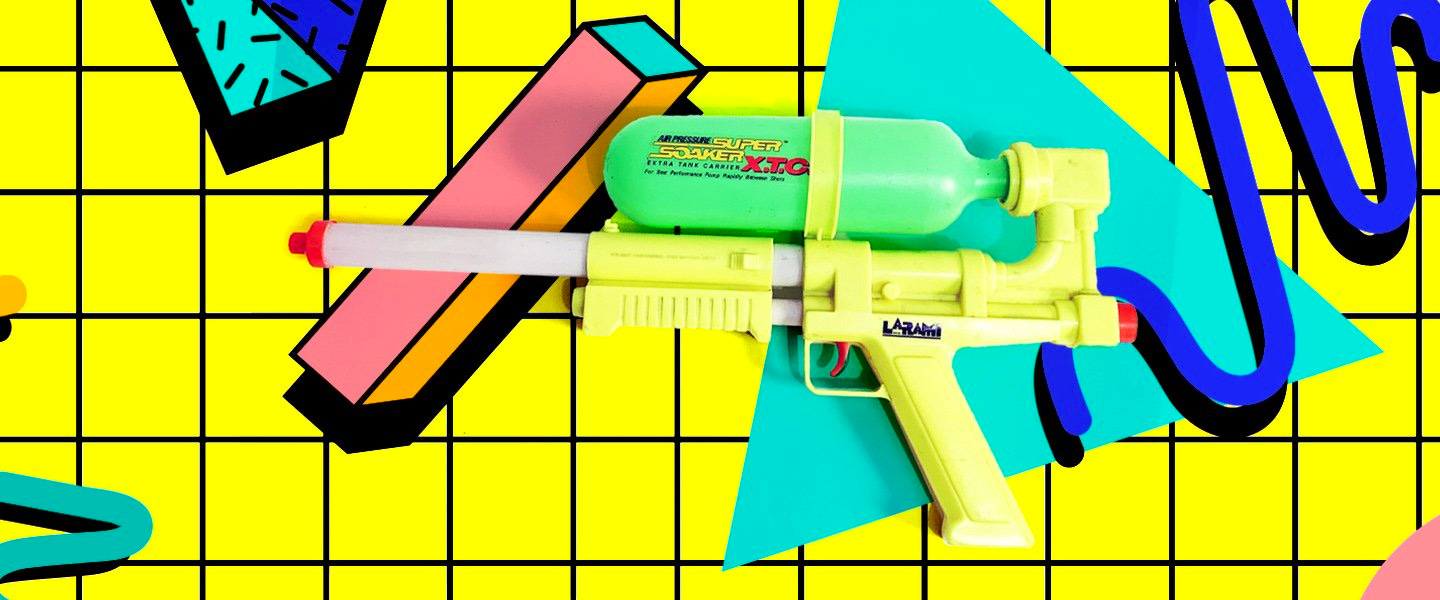 Lonnie Johnson invented the Super Soaker in 1982. He invented it in his garage, while working full-time for the US Government on the stealth bomber program. There was some real science behind the nozzles and air pumping. The company that originally licensed the invention sold 27 million of them in the first 3 years.
Click through to the post if you want to see some very 90's TV ads.
---
Enjoyed this newsletter?
Getting Drinking from the Firehose in your inbox via Substack is easy. Click below to subscribe:
---
Disclaimer: * indicates a Lightspeed portfolio company, or other company in which I have economic interest. I also have economic interest in AAPL, ADBE, AMT, AMZN, BABA, BRK, BLK, CCI, CRM, GOOG/GOOGL, FB, HD, LMT, MA, MCD, MSFT, NFLX, NSRGY, NEE, PYPL, SHOP, SNAP, SPOT, SQ, TMO, VEEV, and V.

Header image credit: https://www.onespace.com/blog/2018/06/big-cpg-rd-problem-fix/