Firehose #164: 🗣 Leading in crisis. 🗣
How Marriott's CEO is handling COVID-19. Plus: companies founded in recession, the multiverse thesis, Prince of Persia, and Chika drops her first album.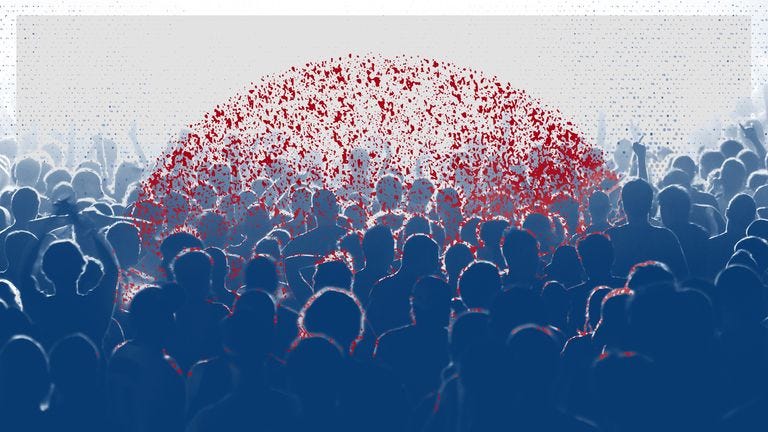 One Big Thought
Confession: I have found it exceptionally difficult to write something intelligent during the COVID-19 crisis.
I'm not a public health expert, so I don't feel like I have much to contribute to that discussion. I'm also not an expert on working remote with kids, although I'm getting a good lesson since all of California is now sheltering at home.
I do feel qualified to comment how startups should respond to this crisis, but good advice is nuanced and customized to the needs of each particular business. At a minimum, I'd use a framework that focuses on what you can control, resets growth expectations for 2020, and plans for multiple contingencies and/or cost cuts as we collectively learn more in the coming quarter. While a few startups will be positioned to grab market share and take advantage of weakened competitors, those with more direct exposure to the economic effects of COVID-19 will need to make more proactive cuts to stem burn from sharp revenue declines. In these situations, cutting faster is better because it conserves cash that can be used to grow once the crisis subsides.
A crisis is an opportunity for leadership. This week, we saw a strong example from Marriott's CEO Arne Sorenson.
Arne took a human angle (starting with his own health challenges), acknowledged the patients who were suffering, discussed the historic impact of COVID-19 on his business (75%+ declines in most markets), walked through proactive steps to respond and contingency plans (hiring freeze, cutting controllable costs, stopping ad spend), announced a 50% pay cut for executives, gave a ray of hope with the potential recovery in China, and finally recommitted himself personally to solving these challenges. He further emphasized that these events were outside of anyone's control, and that the world would eventually return to normal. If you're struggling on how to communicate effectively through this crisis, I'd encourage you to start with a similar outline.
Lastly, it's important to remember that COVID-19 has ratcheted up everyone's anxiety level. It won't be long before we all know someone who has contracted the virus. The human element should be put front and center in any discussion.
I hope you're all staying safe, ideally at home, and are getting time to reconnect with your families during this stressful time.
---
Tweet of the Week
---
Links I Enjoy
#commerce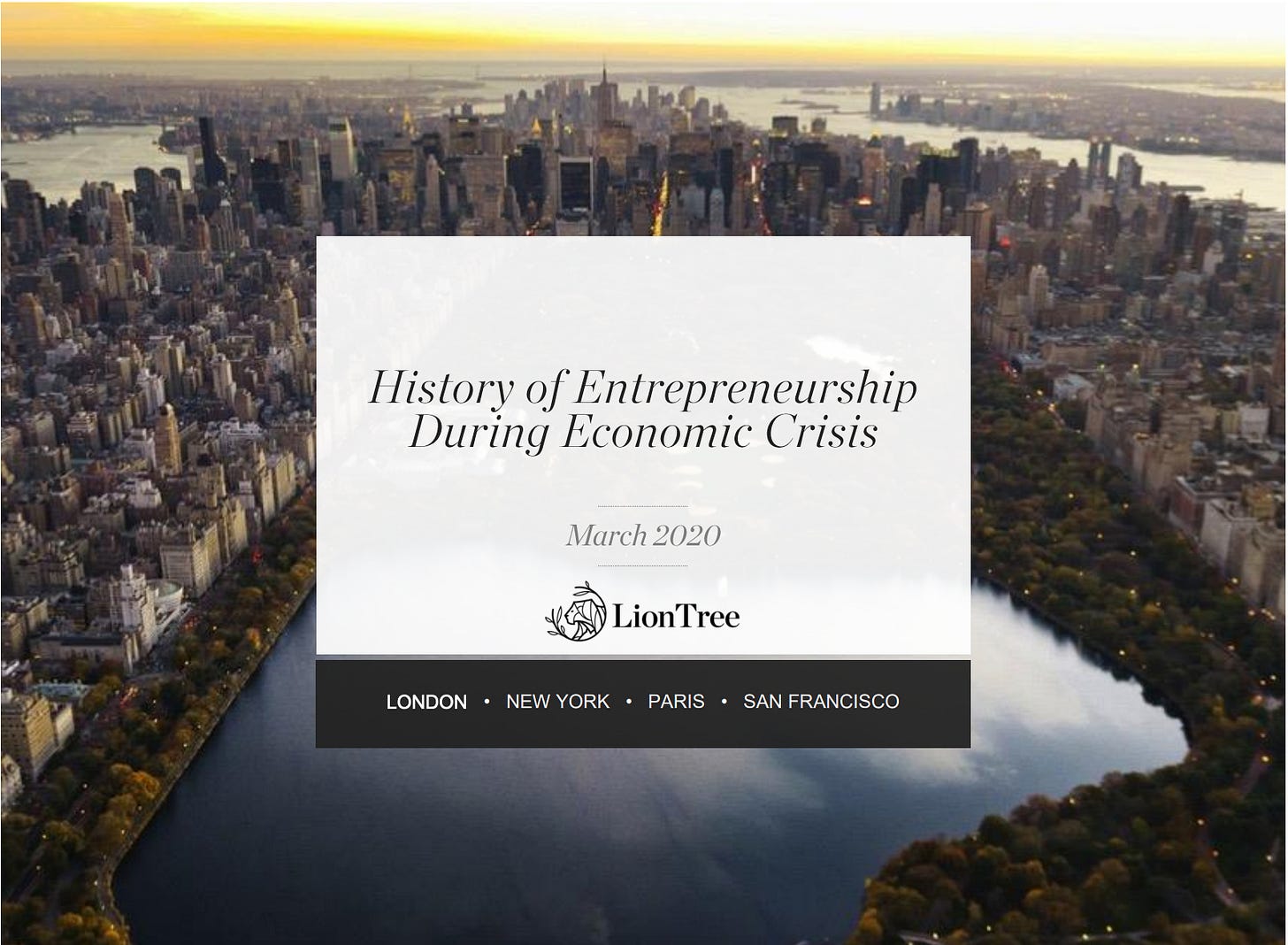 Half of all Fortune 500 companies were started in a recession or bear market. These include GE, General Motors, IBM, Disney, HP, Burger King, Hyatt, Trader Joe's, Fedex, Microsoft, EA, Uber, Airbnb, Stripe, and many more.
Folks are already starting to hypothesize what industries will be revolutionized by startups coming out of this next recession. Some areas highlighted in this note from Liontree include remote work, clinical trials/drug testing, telemedicine, additive manufacturing, grocery delivery, and in-home fitness.
My Lightspeed partner Nicole Quinn also wrote a tweetstorm on what trends are inflecting post COVID-19 in China.
#media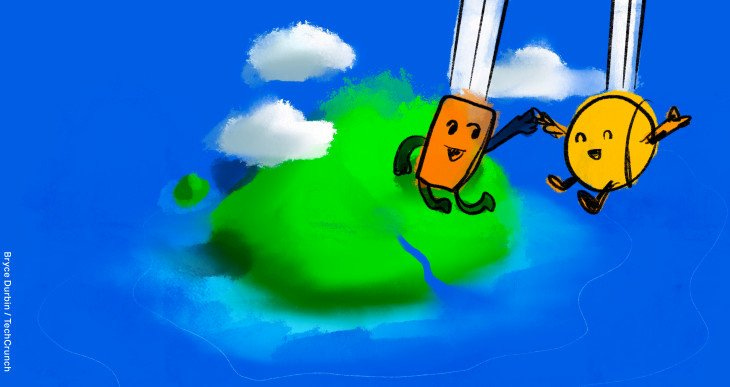 Eric Peckham of TechCrunch wrote a thoughtful, multi-part essay on the rise of the "multiverse" — his name for the game-like virtual worlds that are quickly becoming the next social networks.
He makes the observation that, while social networks have pushed into 60-70% penetration of the daily lives of nearly everyone connected to the internet, games are a daily activity for only ~10% of people:
Multiverse virtual worlds will come to function almost like new countries in our society, countries that exist in cyberspace rather than physical locations but have complex economic and political systems that interact with the physical world.

Right now, three-quarters of U.S.-based Facebook  users interact with the site on a daily basis; Instagram (63%), Snapchat (61%), YouTube (51%) and Twitter (41%) have similarly penetrated the daily lives of Americans. By comparison, the percentage of people who play a game on any given day increased from just 8% in 2003 to 11% in 2016. Within the next few years, that number will multiply as the virtual worlds within games become more fulfilling social, entertainment and commercial platforms.
The shift from traditional social networks to multiverse could be the next massive value transfer in technology.
#tech
I enjoyed this flashback to the origins of Prince of Persia, one of the first computer games I remember playing. Like many of the best platformers, this game was unforgiving to mistakes, but brilliantly designed. I died so many times, but kept coming back to play more.
#science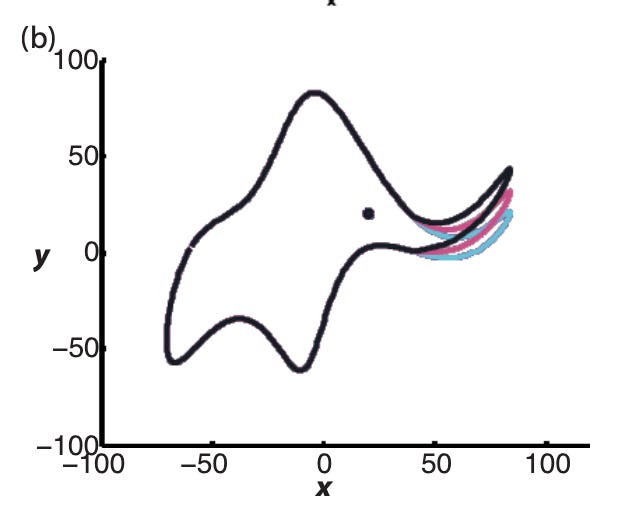 I enjoyed this little journal article:
A turning point in Freeman Dyson's life occurred during a meeting in the Spring of 1953 when Enrico Fermi criticized the complexity of Dyson's model by quoting Johnny von Neumann: "With four parameters I can fit an elephant, and with five I can make him wiggle his trunk." Since then it has become a well-known saying among physicists, but nobody has successfully implemented it.
Well, these guys figured it out!
#culture
NPR's Tiny Desk concert series is like the "MTV Unplugged" of the internet.
I was delighted to see Chika behind the desk this week. I first noticed her on Twitter, rapping one minute clips directly into her webcam. Her talent was so uncanny that those Twitter clips went viral. She's only 23 and just released her first EP Industry Games.
What I love about this performance is how stripped down and bare it is. The arrangement really allows you to focus on Chika's lyrics and flow, as well as the excellent a cappella quartet behind her.
---
Enjoyed this newsletter?
Getting Drinking from the Firehose in your inbox via Substack is easy. Click below to subscribe:
---
Disclaimer: * indicates a Lightspeed portfolio company, or other company in which I have economic interest. I also own stock directly in AAPL, ADBE, AMZN, CRM, FB, GOOG/GOOGL, SHOP, SNAP, SPOT, and SQ.
Header image credit: https://news.sky.com/story/coronavirus-what-is-herd-immunity-and-how-will-it-help-prevent-spread-of-covid-19-11956941