Discover more from Drinking from the Firehose
A weekly(-ish) newsletter on commerce, media, science, tech, investing, & internet culture by Alex Taussig. I am a partner at Lightspeed in Silicon Valley.
Over 9,000 subscribers
Firehose #162: 🔥 Conference hell. 🔥
Will COVID-19 flip conferences virtual? Plus: Rothy's got a brand new bag, Spotify ups its ad game, Facebook says goodbye to bots, and more!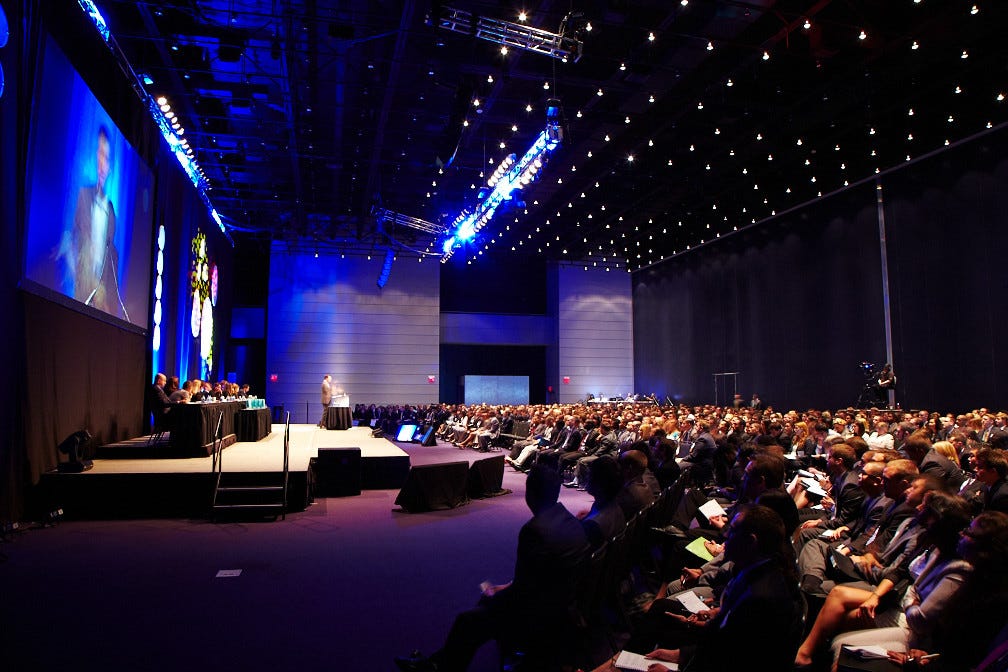 One Big Thought
I have a love/hate relationship with conferences.
The "love" part comes from serendipitous interactions with awesome people. Sometimes you just need to get people into a room to hash out ideas and build relationships. I enjoy these types of conferences (see our Social2030 event from a few weeks ago), but they don't easily scale beyond a few hundred people. (Blame Dunbar for that.)
The "hate" part is pretty much everything else: complex travel/logistics, crappy WiFi, poor food options, awkward nightlife interactions, and (timely) the inevitable conference flu. After most conferences, I usually feel like I could have accomplished more setting up 1:1 meetings over Zoom and watching keynotes/panels a few days later on YouTube.
If most conferences disappeared, few attendees would be worse off. I believe they would find other ways to make the same connections and be more productive. Exhibitors would suffer from lack of a sales channel, but innovative products tend to find a way to reach customers. Digital channels are capable of picking up the slack.
The main problem is that conferences are self-reinforcing. If your peers are attending, you also feel the need to attend. Your boss will more easily approve a travel expense if the conference has years of social proof. Moreover, as these conferences swell in size and scope, sponsors are attracted at a greater rate, driving up profits. These profits are reinvested in more prominent speakers, venues, and goodie bags in order to retain attendees, even after the true thought leaders and innovators leave.
This is my theory for why more awful conferences don't die. They simply limp onwards, leveraging past success to fund bigger, but more useless events.
It's hard to say just how much of the global conference industry is pure economic waste. The whole industry is too big to fail. Globally, it generates $116 billion each year. Over 300 million attendees visit 32,000 conferences, featuring over 5 million exhibitors in 1.5 billion square feet of exhibition space across 180 countries. That's basically everyone who is doing business, everywhere.
A coronavirus pandemic may be the first chance we have to break the vicious cycle of conference proliferation. With more attendees staying home, conference spend will shift into other sales channels. The beneficiary of those dollars will be new digital products that simulate the conference experience in new ways. We've already seen a revolution in asynchronous work communication with Slack and synchronous work communication with Zoom. Can we simulate all the good parts of a conference with new tools, and get rid of the bad?
I am excited to find out. Tweet me your favorite conference replacement solutions, and I'll share with the rest of the Firehose community.
---
Tweet of the Week
---
Links I Enjoy
#commerce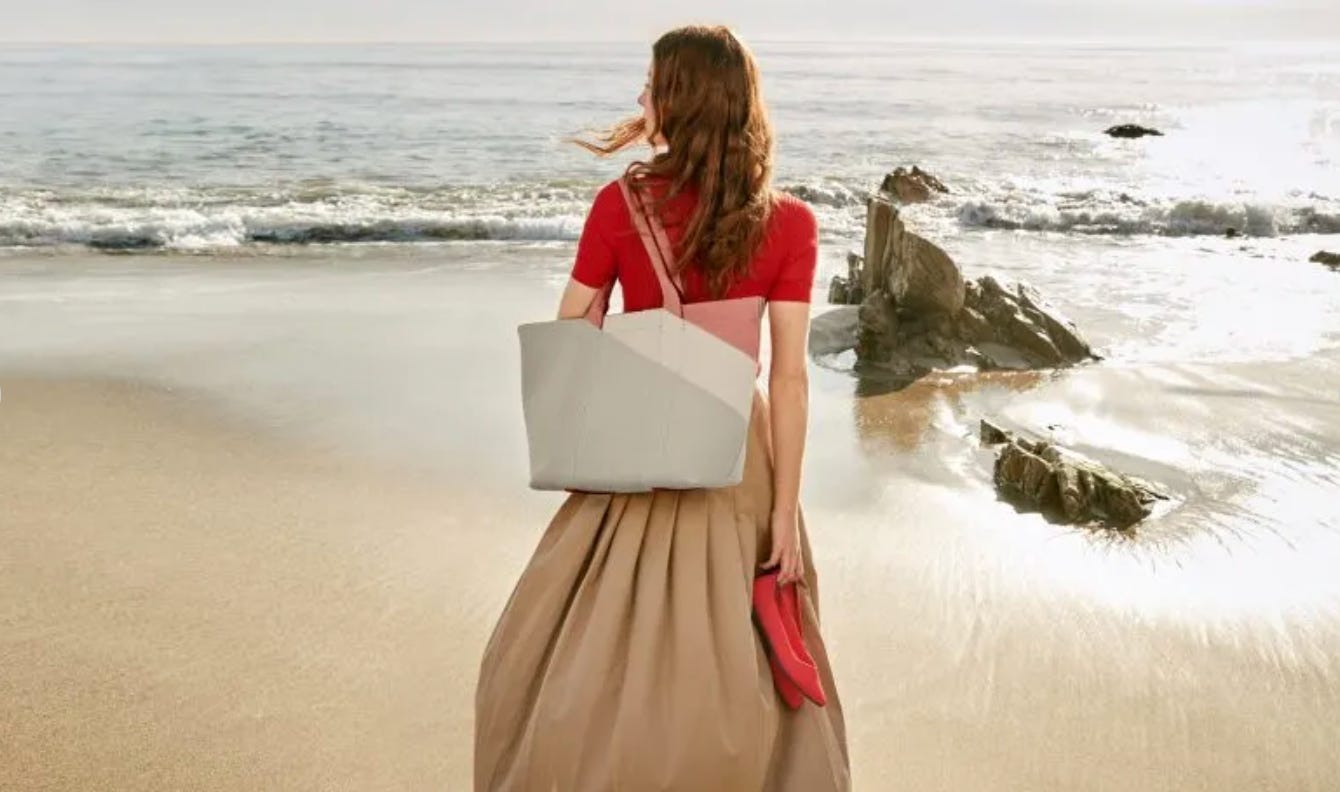 Rothy's* has always been focused on sustainable apparel, created with proprietary knitting technology. Its long awaited second product line is a collection of handbags made from recycled plastic water bottles, fished out of the ocean.
When Eric Colson joined at Stitch Fix* from Netflix, he decided to pioneer a different type of organization for data science in e-commerce. In this post, he summarizes how Stitch Fix moved data science from a typical service organization into its own top-level department. One rationale is that data science alone can be a P&L driver:
While many capabilities are partnerships with other teams, there are others that are fully autonomous to the data science department. As such, the [data science] department is accountable for revenue and other metrics and is able to set its own priorities and roadmaps. Most importantly, the department has agency to innovate and develop net new capabilities, bringing further value streams. Innovations of this type have the potential to change the way the company operates and can provide a strategic advantage as they leverage proprietary data and IP making them difficult or impossible to copy.
#media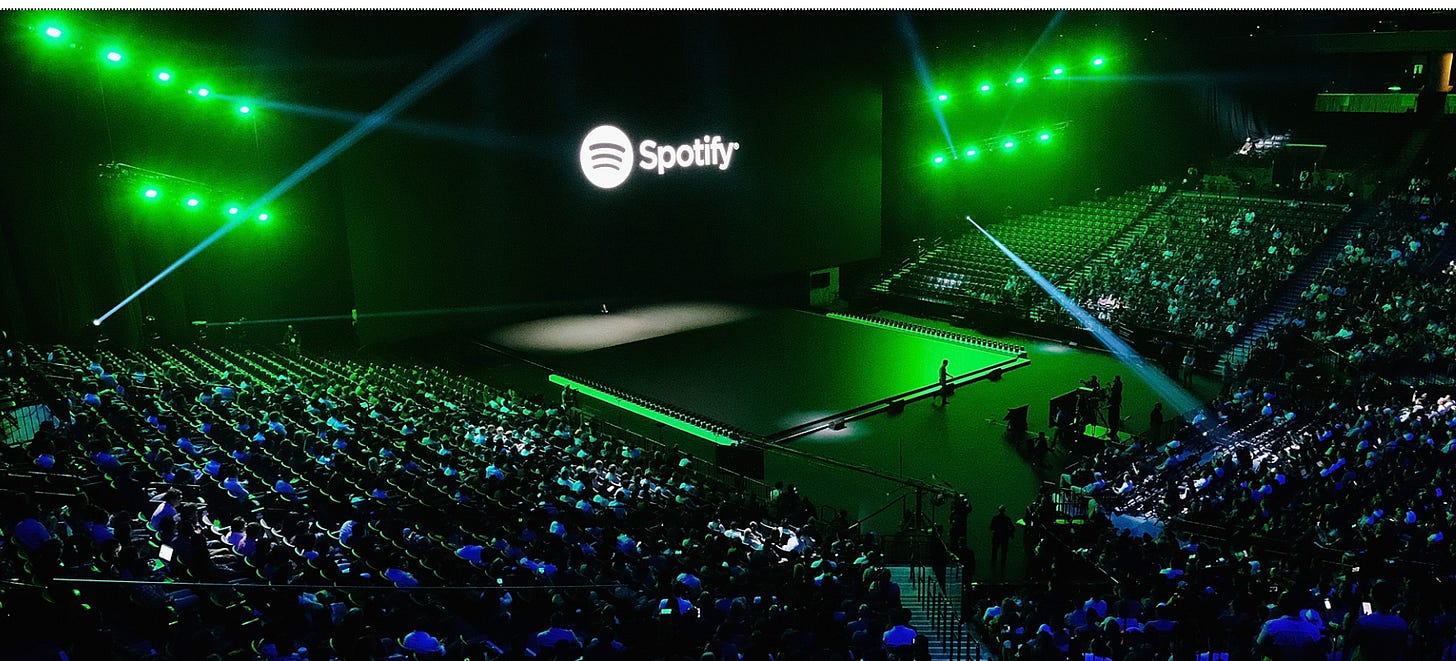 Any sufficiently large consumer company eventually launches an advertising product.
Spotify* has featured in-stream ads for years, but it recently created a "promoted songs" product to sell back to the very record labels from which it licenses music. Unlike streaming revenue, Spotify won't have to share this new revenue stream with the labels. If successful, this ad product could lift Spotify's margins into more comfortable territory and also drive more leverage in negotiations with music partners.
#tech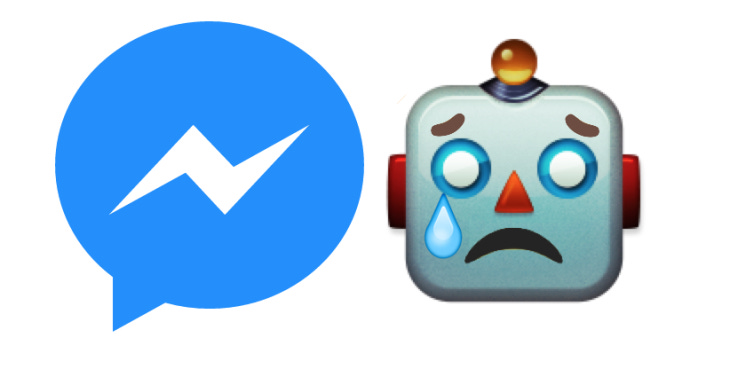 Facebook* has rearchitected its Messenger app to be 1/4th the size and twice as fast. Bots and other "business users" have been demoted in prominence. The app is now more focused on people, which is an odd thing for the world's biggest social network to just get around to now. Thus concludes Facebook's 4-year experiment with conversational interfaces, which have largely failed in consumer use cases. Interestingly, we've seen a lot of progress on bots in the enterprise context (e.g. TripActions* in business travel, Moveworks* in IT operations).
#science
The Copenhagen interpretation of quantum mechanics has always bothered me. The idea that measurement somehow "collapses" a wavefunction seems like an arbitrary backsolve for reality. This video discusses the "many worlds" interpretation, which sounds more complicated, but in some ways is a more elegant approach to answering one of the biggest questions in physics.
#culture
One of my favorite use cases for neural networks is sprucing up old videos. It's amazing when you add resolution and color how "real" these films become. Check out this video of NYC in 1911 and see if you can recognize some of the city's famous landmarks!
---
Enjoyed this newsletter?
Getting Drinking from the Firehose in your inbox via Substack is easy. Click below to subscribe:
---
Disclaimer: * indicates a Lightspeed portfolio company, or other company in which I have economic interest. I also own stock directly in AAPL, ADBE, AMZN, CRM, FB, FTCH, GOOG/GOOGL, NFLX, SHOP, SNAP, SPOT, SQ, and TWLO.
Header image credit: https://www.flickr.com/photos/cydcor/9323706488