Discover more from Drinking from the Firehose
A weekly(-ish) newsletter on commerce, media, science, tech, investing, & internet culture by Alex Taussig. I am a partner at Lightspeed in Silicon Valley.
Over 9,000 subscribers
Firehose #160: 🤖 Social2030. 🤖
Where does social go from here? Plus: teetotalers delight, cash for podcasts, the real death of Moore's Law, and what you probably missed in "Parasite."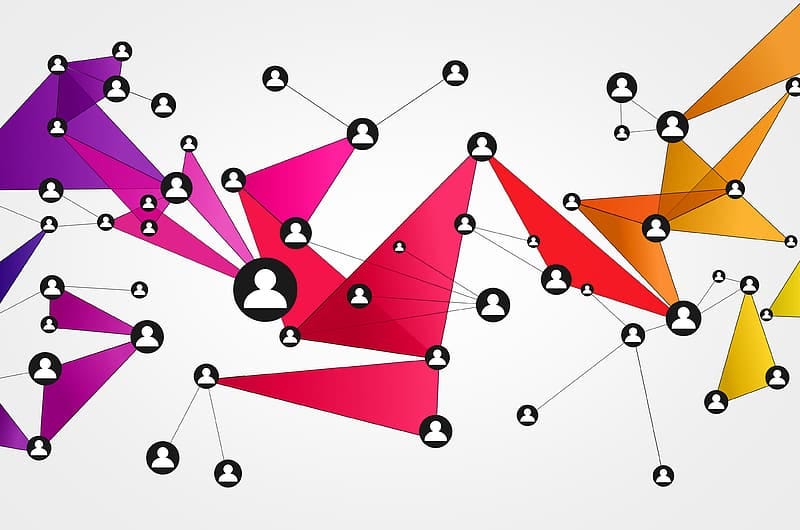 One Big Thought
First, an announcement!
Lightspeed is co-hosting a "salon"-style conference called Social2030 with our friends at Slow Ventures and The Information in SF on Wednesday, February 26th. The half-day session will cover a multitude of paths forward for social networks in this new decade and will feature panelists who are building novel social products.
We have a few tickets left, and I wanted to give subscribers to this newsletter a chance to attend if you're in town! More information can be found here. If you know (or are) a founder working on a social product, ping me directly, and I'll try to get that person in.
At the conference, I'll be leading a discussion on next-gen social platforms, with panelists from Snap, Illumix (makers of "Five Nights at Freddy's: AR"), and Rec Room. I wanted to use the newsletter today to set up that discussion.
If the 2000's were about connecting people to the internet, the 2010's were about connecting people to one and other directly. About 4 billion people access the internet globally today, and nearly all of them are touched by products controlled by one of two companies: Facebook and Tencent.
If that fact seems surprising to you, take a look at the numbers.
Facebook entered the decade with 340 million Monthly Active Users (MAUs). Today, it claims 2.9 billion Monthly Active People (MAP), uniquely counted, across its family of apps: Facebook, Instagram, Messenger, and WhatsApp. Tencent's WeChat has 1.1 billion MAUs, and its QQ Messenger has 700 million MAUs on smart devices. It really does appear that these two massive companies have split the world's internet population of 4 billion people — maybe 2:1 in Facebook's favor.
The second generation of social services that arose in the wake of these foundational products compete today around the edges, with best-in-class platforms scaling to 200-400 million MAUs. The winners have either focused on an emerging demographic (e.g. teens with Snap* or Tiktok/Douyin) or have peeled off a social use case not well served by utility networks (e.g. interests on Reddit/Twitter, eSports on Discord/Twitch, shopping on Pinterest).
I am interested to see if a new competitive vector emerges in the next decade for social products. The most likely candidate, to me, is "immersion."
Because social products have penetrated the entire global internet population, it's not likely that these networks will see more revenue growth by simply adding users. Instead, they must focus on monetizing users more deeply.
We're already starting to see established networks experiment with deeper monetization, beyond the typical ad products. Facebook has introduced features like Checkout on Instagram, effectively turning an Instagram feed into an e-commerce store. Snap has released Snapchat Games and Bitmoji TV — two attempts to draw longer session times and perhaps stimulate the sale of virtual goods in the future.
These are marginally more immersive experiences, but if we want to see what true immersion could look like, we need to delve into gaming. Fortnite by Epic Games* is the best current example. The Fortnite "metaverse" blurs the lines between a game and a social network. Users log in to see their friends as much as they do to play the game. The monetization model is directly tied to social features, like skins, and encourages much broader participation in the economy than in past attempts at a metaverse.
As a result, Fortnite's monetization on a user basis is massive. According to Matthew Ball's epic post on the topic, Fortnite's ARPU is greater than those of Google*, Facebook*, Twitter, and Snap* combined: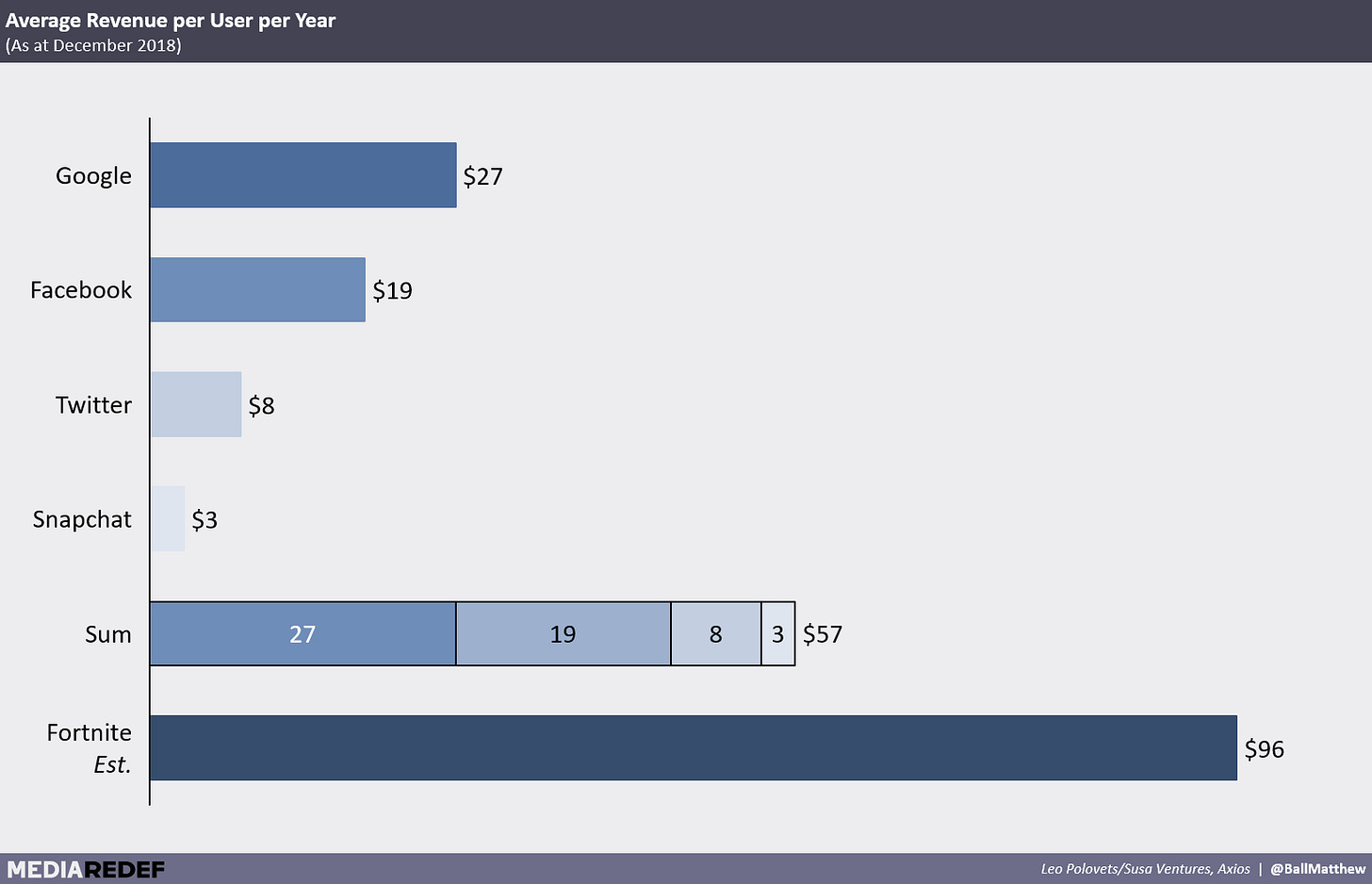 A gaming metaverse could be supercharged by a mass market VR/AR hardware release by Apple*, Amazon*, or any of the other companies with the resources and developer ecosystems to make one successful. Tom Emrich of 8th Wall wrote a post entitled "20 AR predictions for 2020" that sums up some of the developments we could see in the near term.
A few highlights:
New inputs: Smartphones will add time-of-flight, radar, and other sensors typically seen in autonomous vehicles to create higher bandwidth "spatial computing." App developers will build new features and apps on top of the information from these sensors.

AR+VR: The first mass market AR device might be a VR headset with AR passthrough viewing. The main rationale is that optical see-through AR devices are much harder to get right than VR devices with an AR overlay.

AR leaps off the face: What Snapchat pioneered with Lenses for the face, we're now seeing with the body and real world tableaus (like Snapchat's recent "the floor is hot lava" filter). Tom writes: "Expect your Stories to be filled with your friends throwing fireballs, dancing with characters and more this year as body filters take over your feeds."

AR will turn fashion digital: I wasn't aware that L'Oreal's hair color of 2020 was "holographic," but here it is. If Photoshop was the original AR tool for fashion, Instagram and Snapchat filters have made the technology almost trivial to apply. Expect to see digital fashion "enhancements" change aesthetics in the coming years.
Whatever the future holds, it's going to be an exciting time to participate in social products. I'll try to share some summary notes from Social2030 next week and hope to see some of you there!
---
Tweet of the Week
---
Links I Enjoy
#commerce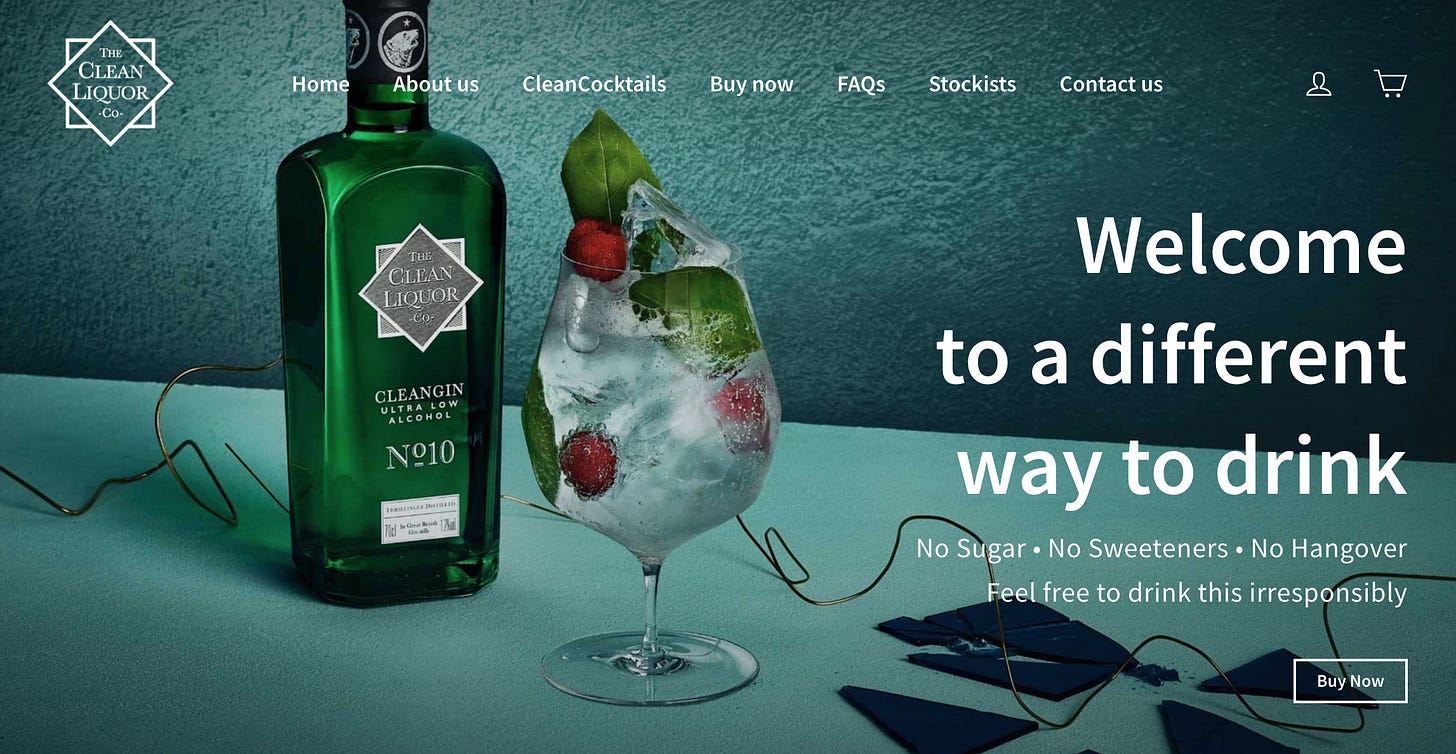 My partners Nicole Quinn and Ashley Brasier announced our investment in Clean Liquor*. As Ashley wrote in a prior post, millennials' relationship with alcohol is very different than that of prior generations. Moreover, low/no alcohol drinks can be distributed more easily over the internet vs. classic alcohol products sold through the "three tier" system. The company combines product and business model innovation with a founder who tells a compelling story for why he's building this company.
The trend towards urbanization in the U.S. benefits local retail. I recently came across a data set that explicitly correlates miles driven per person per day with the local market share of chain restaurants. The hypothesis is that chains more easily advertise to motorists, given national ad spend and expensive signage. Also, serendipitous discovery is less common when you have to get in a car.
#media
I wrote a while back that any marketplace with proprietary data should consider using that data to take more risk in the transaction. In many cases, that involves underwriting deeper participation in the marketplace. Modeled after Shopify Capital, Patreon recently launched a cash advance product for podcasters on its platform.
Patreon Capital, then, is kind of an adaptation of those services for the creative class, which is increasingly being made to understand themselves as business entities in a classic sense and thus progressively require the kinds of services that contribute to the support of conventional businesses. And given their history and positioning as a creator support platform, Patreon believes they're in a better position than banks to provide creators with the business support they need. "After all, Patreon has access to all the data about a creator's earnings history, what they offer as benefits, how much they engage with their patrons…everything needed to forecast their earnings and retention, without a creator even needing to submit an application," said Carlos Cabrero, the company's VP of Finance. "This would be essentially impossible for a bank to replicate."
#tech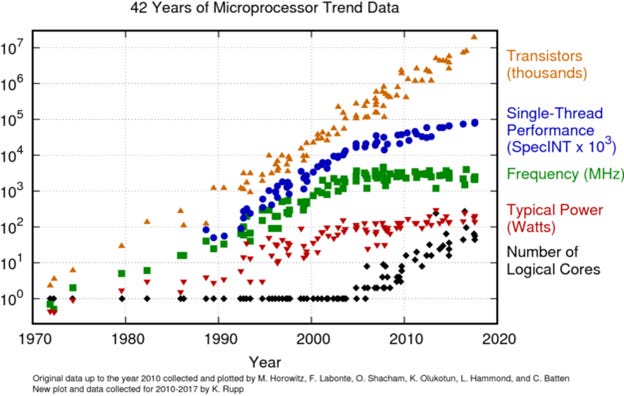 The debate about whether or not Moore's law is dead often comes down to semantics. The actual supported trend is that single-thread performance (the original formulation of Moore's law) is degrading, but it's more than supplemented by the increase in logical cores in modern processors.
As multi-core chips gain incrementally less advantage through parallelism, the author of this post predicts we will enter an era of specialization and heterogenous compute. He argues further that, actually, we're already there.
#science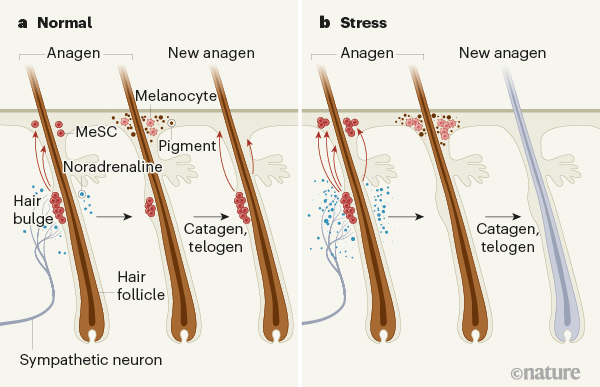 Scientists have made new progress in determining the effects of "fight or flight" responses on hair greying (in mice). The evolutionary implications of stress-induced greying are pretty interesting:
Consider what possible evolutionary advantage might be conferred by stress-induced greying. Because grey hair is most often linked to age, it could be associated with experience, leadership and trust. For example, adult male silverback mountain gorillas (Gorilla beringei beringei), which get grey hair on their backs after reaching full maturity, can go on to lead a gorilla troop. Perhaps an animal that has endured enough stress to 'earn' grey hair has a higher place in the social order than would ordinarily be conferred by that individual's age.
#culture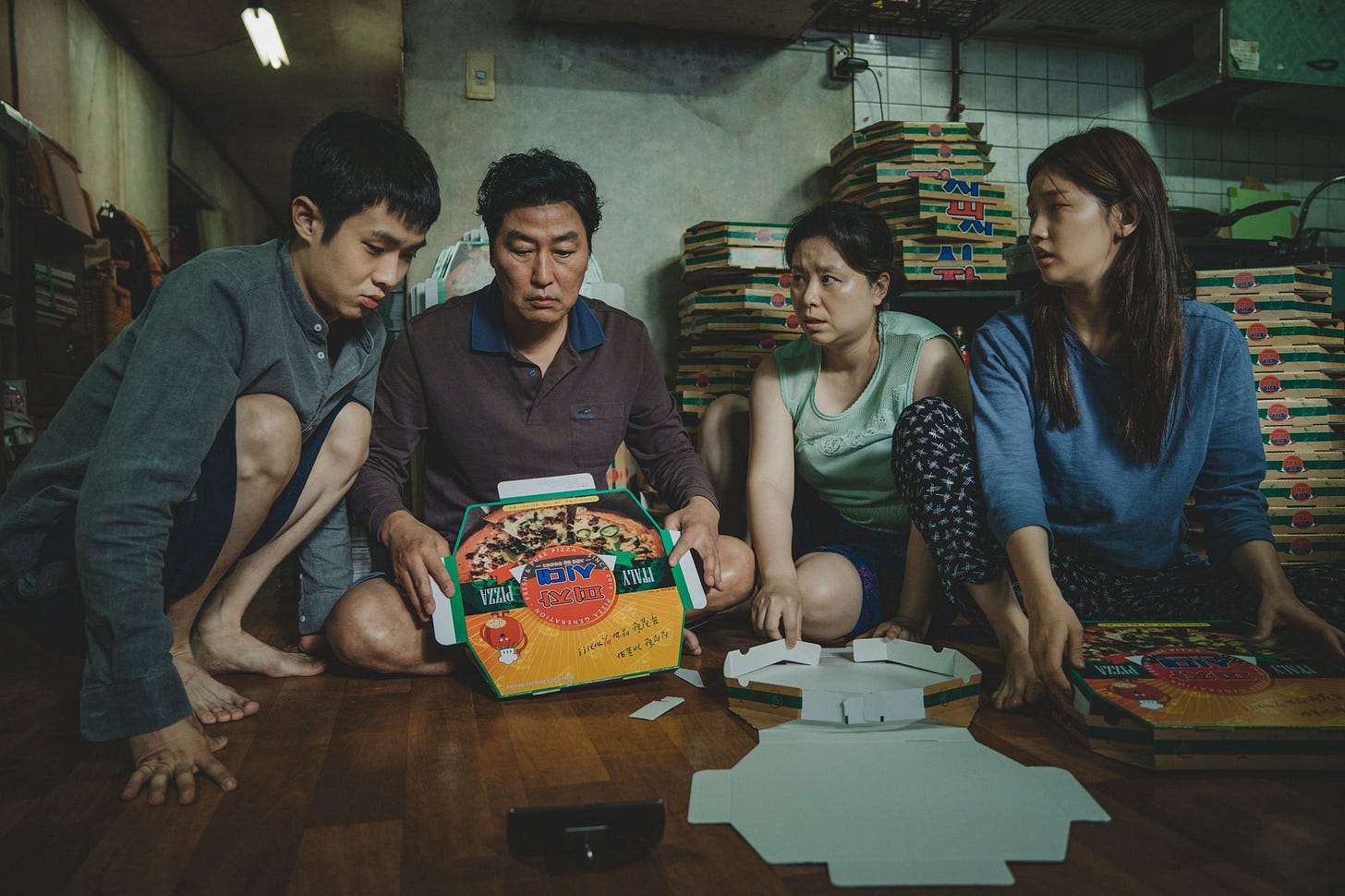 I don't get to watch many movies lately, but my wife and I made a special effort to see Parasite. We both really enjoyed Bong Joon-ho's previous work Snowpiercer and were excited to see what the Oscar hype was about. We're used to watching movies with subtitles on after getting through 5 seasons of Peaky Blinders on Netflix (yes, I know it's "technically" English), so that wasn't a big deal. Until I read this post by a Korean speaker, I didn't realize how much I was actually missing!
---
Enjoyed this newsletter?
Getting Drinking from the Firehose in your inbox via Substack is easy. Click below to subscribe:
---
Disclaimer: * indicates a Lightspeed portfolio company, or other company in which I have economic interest. I also own stock directly in AAPL, ADBE, AMZN, CRM, FB, FTCH, GOOG/GOOGL, NFLX, SHOP, SNAP, SPOT, SQ, and TWLO.
Header image credit: https://www.pikrepo.com/fbvxx/abstract-network-of-people-social-networks