Discover more from Drinking from the Firehose
A weekly(-ish) newsletter on commerce, media, science, tech, investing, & internet culture by Alex Taussig. I am a partner at Lightspeed in Silicon Valley.
Over 9,000 subscribers
Drinking from the Firehose #121: ✊ Knock-on effects. ✊

The consumer tech incumbents have never been more dominant in their respective markets.

Facebook and Google together control 60% of online advertising spend. Online is now half of the total advertising market. Amazon alone controls 47% of U.S. e-commerce revenue, nearly 7x the share of its closest competitor Ebay. 89% of those with a streaming video subscription subscribe to Netflix. Those who subscribe spend over an hour each day watching the service, or roughly a quarter of total TV/video time.

The dominance of these tech incumbents, however, isn't necessarily a bad thing for startups. Tech incumbency is a much bigger problem for legacy, offline companies. Startups, in fact, are benefiting from the "knock-on effects" of tech incumbency. Investing in these knock-on effects will be a big theme of the next decade.

For example, Amazon is particularly bad for big box retailers. "Category killers" like Home Depot and Best Buy formerly offered low prices, wide selection, and in-store education. With a larger percentage of the population moving into urban centers, fewer consumers want to spend the time browsing the aisles of a mega store, especially for a utilitarian purchase. Compound that with 2-day (or same day) delivery from Amazon, and the value proposition of big box retail seems particularly weak.

Yet offline retail is still 85% of all retail spending, and the retail apocalypse isn't evenly distributed.

Local retail, a $1 trillion category in the U.S., is experiencing a renaissance. Experiential, non-utilitarian purchases are often better served at the local level, where curation and personal touch matter to a shopper. Faire, which runs the leading wholesale marketplace for independent stores, benefits directly from this trend, which I wrote about in my blog post announcing our investment.

Verticalized purchase behaviors have also seen better adaptation on the internet, despite (and perhaps because of) poorer offline comparables. Department stores, for instance, have seen sales decline at a 3% CAGR over the last 16 years. Zola took one of the core department store use cases -- setting up a new home -- and verticalized it with an online wedding gift registry. It has now begun to roll up the category, opening a shop for all things wedding and selling its own paper products.

Amazon's dominance over retailers has another knock-on effect: it hurts those companies that heavily over-index on retail as a distribution channel for their brands. Consumer packaged goods (CPG) is a particularly good example. Online channels have already aggregated 56% of sales in pet supplies and 50% in vitamins, for instance. As a result, category leaders have seen downdrafts in same-store sales -- -4.5% for PetSmart and -0.6% for GNC.

Compared to pet supplies and vitamins, grocery is earlier in its transition to online sales, with only 6% market share, but food CPG is already struggling for growth. The major food CPG players have lost $17 billion in sales over the last 5 years to smaller upstarts, many of which have developed a compelling online presence (e.g. Halo Top, Rxbar). In response, these large players have resorted to M&A to drive growth, effectively outsourcing innovation to the startup ecosystem. One particular example is Daily Harvest. It targets those consumers disaffected by food CPG innovation with a tech-enabled service that designs meals in collaboration with its subscribers. I wrote about the company around our investment in 2017.

Outside of commerce, knock-on effects are also palpable. The dominance of Netflix is driving the best content creators away from the legacy studios and into smaller, independent entities that are built natively for direct-to-consumer distribution. As Netflix shifts the movie industry from retail to online, we will see the exhibitors struggle to attract patrons. Netflix expects to spend close to $15 billion in 2019 on content. Like in food CPG, those dollars will increasingly flow to smaller companies. We recently funded AWA Studios to go after that opportunity, which I described in a recent blog post.

As the startup ecosystem adopts to the "new normal" defined by tech incumbency, it needs to learn to adapt and thrive. I'm thrilled to see so many of our portfolio companies on the right side of this trend. If you have other examples of the knock-on effect in action, send them to me on Twitter at @ataussig.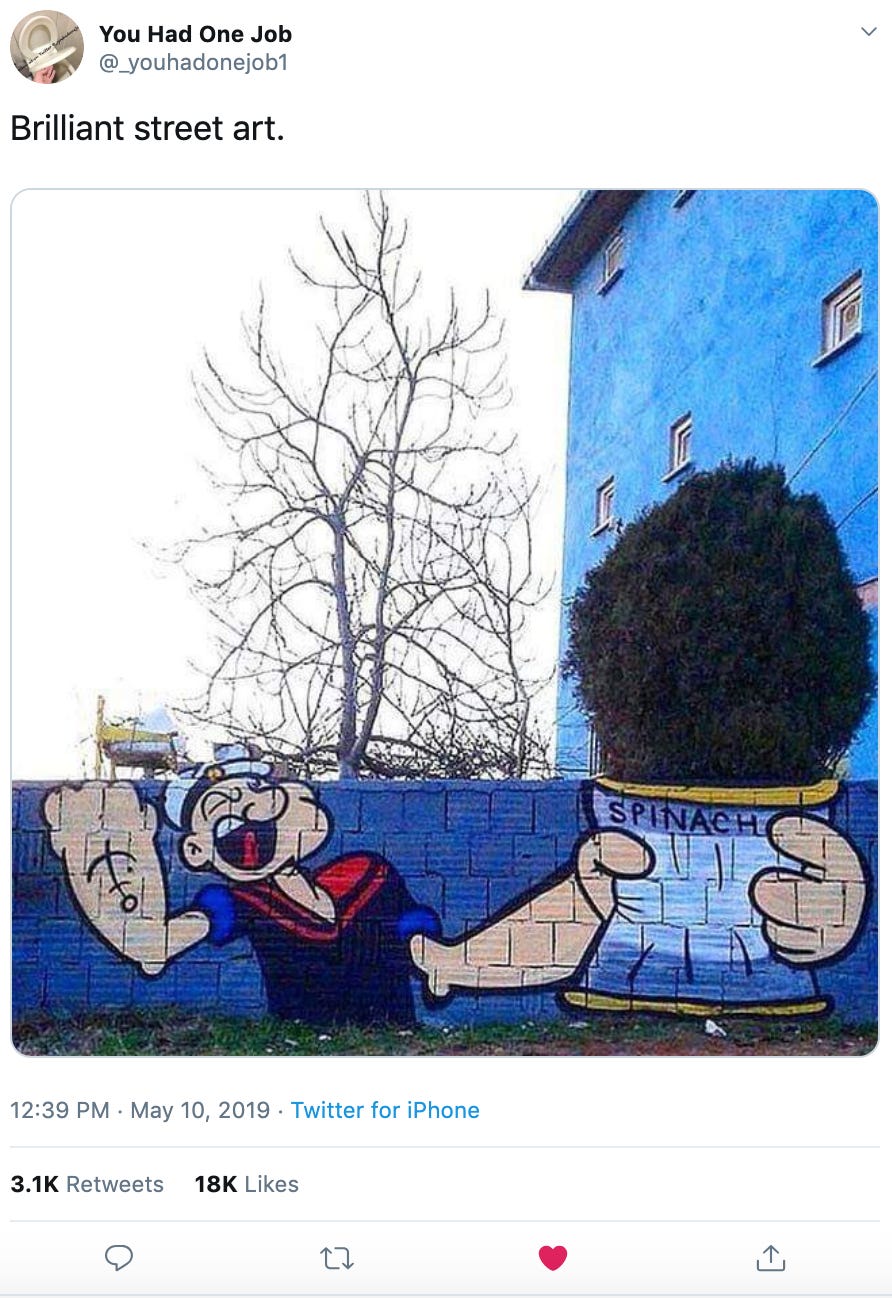 #commerce
Amazon doesn't buy companies for revenue. It buys them for distribution advantage.

When it paid $735 million for PillPack in 2018, Amazon purchased more than a company that ships pills in convenient little pouches. It bought the ability to fill prescriptions in 49 states. As a standalone business, Pillpack was challenged by high cash burn and low margins, requiring it to raise hundreds of millions to continue scaling at 100%+ annual growth. Inside of Amazon, however, that cash burn is insignificant compared to the prize of winning national distribution of prescription drugs.

By offering Pillpack to its 100 million Prime member households in the U.S., Amazon may possess enough scale in distribution to go around pharmacy benefit managers (PBMs) and strike direct deals with insurance plans. Cutting out the PBM middle man would generate a significant profit pool, which Amazon could redistribute to its customers in the form of discounts on drugs and become the ultimate low cost player in the market. It could also use its scale to work directly with drug manufacturers and drive down the cost of pills even more. For the first time in a long time, on the back of Pillpack, Amazon could create a business model that aligns with the interest of consumers.
When McDonald's announced it was paying $300 million to acquire an AI startup, a lot of us checked the headline to make sure we weren't reading The Onion. The Big Mac maker is deadly serious, however, about deploying technology, especially as it overhauls its 700 drive thru stores in the U.S. Drive thru is a big profit center for McDonalds, especially when it comes to breakfast. It plans to use technology to customize menus throughout the day and integrate with its back-of-house operations.
#media
By the end of the century, the dead will outnumber the living on Facebook. As researchers point out, that fact presents interesting product issues for the platform. Who should have access to that information? How should we remember the dead vis-a-vis their online presence? Whose job is it to archive, or to delete, data once someone dies?
Power laws aren't just for venture capital. This characteristic distribution of returns applies equally to most creative professions. Case in point: 60% of concert ticket revenue in 2017 went to the top 1% of performers, up from only 26% in the early 1980's. Much of the change has been driven by inflation in ticket prices, almost 6x on average over the same time period.

Part of this consolidation is driven by necessity. It's much harder to make money from sales of music than it was in the pre-digital era. So artists hit the road and stay there. Today, 75% of a performer's income is generated by concert tours, compared to 30% in past decades.
#tech
The Chief of Staff (CoS) is an essential partner to the CEO in companies that are scaling rapidly. Because little has been written on the typical definition and scope of this role, I was delighted to see this post by the former CoS to the CEO of Opendoor.

If you're curious and want to check out real-life profiles of badass CoS's, check out Manika Garg (Zola), Selina Vellani (Daily Harvest), Fion Nguyen (Faire), and my colleague Janou Gordon (Lightspeed).
#science
Mathematicians love their chalk. A poorly kept secret in math circles was that a Japanese company called Hagoromo made the best chalk in the world. It could only be purchased in Japan, so on their travels mathematicians would purchase the good stuff and resell it to friendly colleagues at home. When the Hagoromo announced it was shutting down, mathematicians across the globe clammered to get their hands on a few sticks of this coveted writing implement.
#culture
Drive north on I-280 near Hillsborough and one house in particular might turn your head. The so-called Flintstone house is a local icon that always makes me smile. Some residents of Hillsborough have the opposite reaction though. Check out this profile of the eccentric owner of the house, who isn't backing down to social (or legal) pressure.
Claudio Sanchez leads the prog rock band Coheed & Cambria. He's a virtuoso songwriter, singer, guitar player, and frontman all in one. I love getting a chance to hear folks of Claudio's caliber with all the other instruments and production filters stripped away. This rare video of Claudio and his wife performing together recently surfaced and showcases his talent, especially on the Sting cover "Englishman in New York."